Second Stimulus Update: Public Pushes Back On $600 Checks
KEY POINTS
Many Americans believe the $600 stimulus checks are not enough
Partisan sniping continues after the compromise
The president could sign the bill as early as Monday
After marathon sessions over the weekend, lawmakers passed a stimulus measure that will send $600 checks to individual taxpayers. However, public reaction was clear; it's not enough.
Congress passed a bill that combines a $1.4 trillion spending measure with a $900 billion COVID-19 relief package. Some $120 billion of that will supplement state unemployment insurance payments with an extra $300 per week through March 14, and individual taxpayers will receive a one-time direct payment of $600.
The CARES Act, a $2.2 trillion bill passed in March, had twice the benefits but expired in June. Lawmakers spent months debating the next bill, one that falls short for many citizens struggling through the pandemic.
Americans took to Twitter to vent their frustration over the measure, arguing the extra $600 barely covers a rent payment in many cases. Others described it as a slap in the face for people who can't pay their bills because of store closures or furloughs.
The bill also supports the Payment Protection Program, a low-interest loan package for small businesses, with $284 billion. Another $25 billion goes for federal rental assistance.
Binyamin Appelbaum, the lead editorial writer on business and economics for The New York Times, said on Twitter the bill is more about the $900 billion total package than just the $600 in direct payments.
Addressing reporters on Sunday, House Speaker Nancy Pelosi acknowledged that some measures, such as support for state and local governments, fell short of what Democrats had wanted.
"So we consider this a first step and more needs to be done," she said.
Senate Majority Leader Mitch McConnell, a Kentucky Republican, shot back by saying Democrats put "partisan presidential politics" ahead of the needs of the American people
"I just wish our partners on the other side had put political calculations aside and worked with us to make this happen a long time ago," he said in a statement.
The House and Senate are both expected to sign off on the measure and send it to President Donald Trump for his signature by Monday.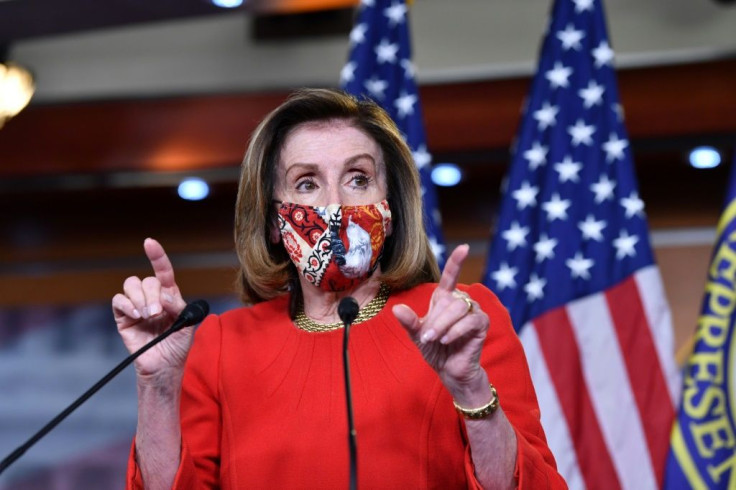 © Copyright IBTimes 2022. All rights reserved.
FOLLOW MORE IBT NEWS ON THE BELOW CHANNELS