'Seinfeld' 25th Anniversary: Should Cast Celebrate Milestone With A Reunion Episode? [POLL]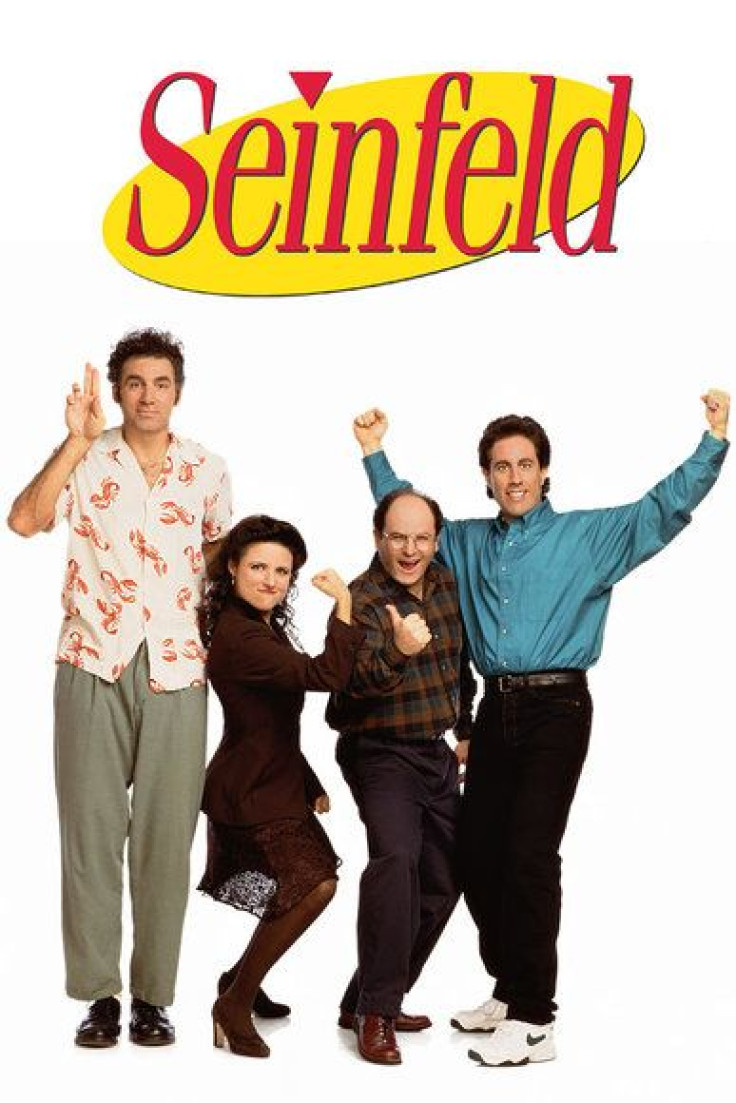 Can you believe that "Seinfeld" will be celebrating its 25th anniversary on Saturday? It feels like just yesterday we were watching the Soup Nazi deny brothy goodness to anyone who stepped out of line in his restaurant. Now, 25 years later, fans of the iconic 90s television program are raising a cup of jambalaya to the silver anniversary of the program created by Jerry Seinfeld and Larry David.
The sitcom, which ran for nine seasons, starred Seinfeld as a fictionalized version himself and told the Manhattan-based story of the shenanigans he found himself in along with his friends George Costanza (Jason Alexander), his ex-girlfriend Elaine Benes (Julia Louis-Dreyfus) and his goofy neighbor from across the hall Cosmo Kramer (Michael Richards).
The series, which originally aired on NBC from July 5, 1989 to May 14, 1998, captured the hearts of fans from across the country with the show's dry humor and legendary catch phrases. C'mon, try and tell us you haven't unconsciously used the line "these pretzels are making me thirsty" when snacking on the salty treat!
Because of the show's witty script and loveable characters, "Seinfeld" took home its fair share of awards during its nine-season stint, including 10 Emmys and 3 Golden Globes. The comedy was even dubbed at the greatest television program of all time by TV Guide in 2002. No wonder fans have been crossing their fingers for the four best friends to reunite in a "Seinfeld" reunion since the show went off air. But according to E! Online, that dream seems pretty farfetched.
During the 2014 Super Bowl, Seinfeld and Alexander reunited in a commercial at Tom's Restaurant to chat about the big game. Seinfeld reveals to Alexander's character, George, that he was invited to the Wasserstein's Super Bowl party but declined because George was not.
"The Wasserstein's don't like you because two years ago you over-cheered and ruined the whole party," Jerry bluntly admitted.
"It was the Giants!" George replied. "What was I supposed to do? I cheered."
The skit ends with the neither of them attending the party after Newman (played by Wayne Knight) revealed he was heading over to the festivity with a sweet treat for the savory party.
But with the sweet comes the sour. Seinfeld admitted that the Super Bowl commercial would be the last time fans saw a "Seinfeld" reunion.
"I do kind of feel like [I've gotten it out of my system], I must say," he said during an interview with BuzzFeed Brews and CBS This Morning in February. "I think the timing was good. The opportunity was unique—to be on the Super Bowl is not something that we're ever going to surpass. So I may be wrong, but I have a feeling you've seen the final coda on that very unique experience."
But that wasn't the first time Seinfeld and David had dabbled with the idea of a reunion. During Season 7 of David's hit TV series "Curb Your Enthusiasm," which aired in 2009, the comedian toyed with the idea of a potential reunion throughout his plot . In episode 3, "The Reunion," David and Seinfeld finally agreed to do a reunion show. However, a pair of bad tickets foils David's plan when he offends the head of NBC with an outburst. A reunion about a reunion -- typical!
Although an official "Seinfeld" reunion never came about, the cast and crew of the beloved comedy have countlessly bumped into each other in various projects, such as in Seinfeld's latest web series "Comedians in Cars Getting Coffee." David, Michael Richards and Alexander appeared on the show since its premiere date in July 2012. And lucky for "Seinfeld" fans the unconventional talk show has been renewed for six more seasons beginning with a five-episode fourth season that aired on June 19.
How do you feel about a "Seinfeld" reunion? Would you want to see the gang reunite on TV once again? Take the poll below or sound off in the comments section.
© Copyright IBTimes 2023. All rights reserved.