'Seinfeld' Streaming On Netflix? Jerry Seinfeld Confirms Negotiations 'Taking Place' To Watch Show Online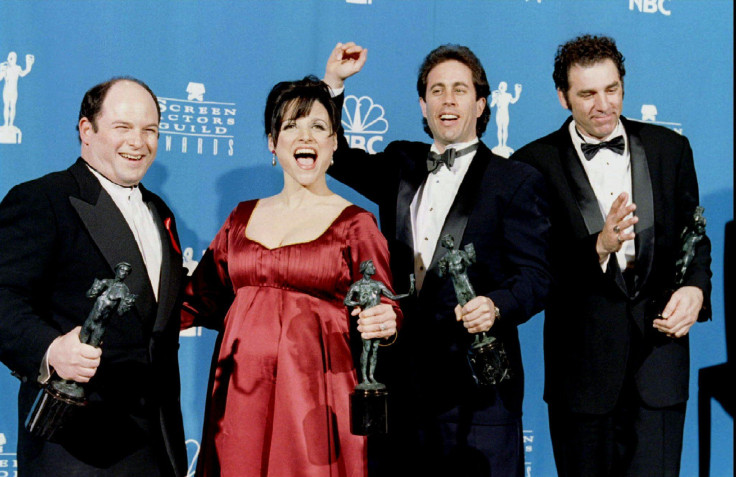 "Seinfeld" fans who have for years sought a new way to watch the beloved "show about nothing" on DVD or syndication have perked up with the news that Jerry, George, Elaine and Kramer could soon be coming to Netflix (NASDAQ: NFLX), a rumor that has blown up thanks to recent comments from Jerry Seinfeld himself.
Seinfeld, the co-creator and star of the show that dominated the 1990s and became a benchmark that all comedies are compared to, was participating in a Reddit "Ask Me Anything" session Thursday when a fan asked if there was any talk of the show coming to Netflix, saying "There are so many people who still have not experienced 'Seinfeld' first hand and having it available through Netflix will surely be the easiest way."
"You are a very smart and progressive person," he replied simply. "These conversations are presently taking place."
Those two simple sentences set off a social media firestorm that continued burning through the weekend. The excitement, for all the volume on Twitter and throughout the blogosphere, isn't unwarranted, though, with the show raking in $3 billion in revenue for Time Warner (NASDAQ: TWX), which holds the syndication rights until they expire in September, according to Bloomberg.
With "House of Cards" and "Orange is the New Black" already heavily favored to win big at awards season in just their second season, Netflix is expected to continue spending big to differentiate itself from streaming competitors like Hulu and Amazon.com Inc. (NASDAQ: AMZN). Obtaining the rights to "Seinfeld" could make Netflix the must-have service for cord cutters everywhere, with a deep selection of past TV shows and movies already available.
A Broadcasting and Cable report cited a 2010 Time Warner conference in which it was revealed that "Seinfeld" took in "$598 million in its first broadcast cycle, $984 million in its second cycle and $703 million in the third. On top of that, cable paid $180 million for the show in its first cycle, $113 million in the second and $86 million in the third."
"There are only a handful or what we tend to refer to as A-level sitcoms in our business," Chuck Larsen, the president of October Moon Television, an independent consulting firm specializing in syndication rights, told Bloomberg. "'Seinfeld' is certainly one of them. 'Full House,' 'Happy Days,' 'I Love Lucy,' 'Two-and-a-Half Men,' 'Everybody Loves Raymond' – there haven't been that many."
Netflix already has the rights to "Raymond," the hugely popular show starring Ray Romano as a sportswriter whose parents live across the street. Shows with familiar premises tend to be better received by audiences, Larsen said, increasing their ratings and ultimately the cost of making them available online.
"There's something about comedy," he explained to Bloomberg. "People will watch it over and over and over again. That's why comedy is so profitable in syndication and distribution. It repeats well. You don't do that with dramas. I saw 'Schindler's List' once, and it was great, but I really don't want to see it again."
This possibility comes only weeks before "The Simpsons," which premiered six months after "Seinfeld" premiered in 1989, joins the world of streaming via FXNOW, the recently launched video-on-demand app for FX Networks. All 530 episodes of the show will be available, with the network shelling out a reported $1 billion to remind fans why the town of Springfield has been on TV for a quarter-century.
Netflix did not immediately respond to request for comment on this story.
© Copyright IBTimes 2022. All rights reserved.
FOLLOW MORE IBT NEWS ON THE BELOW CHANNELS