Seth Meyers Is The Late-Night Host We All Thought Stephen Colbert Would Be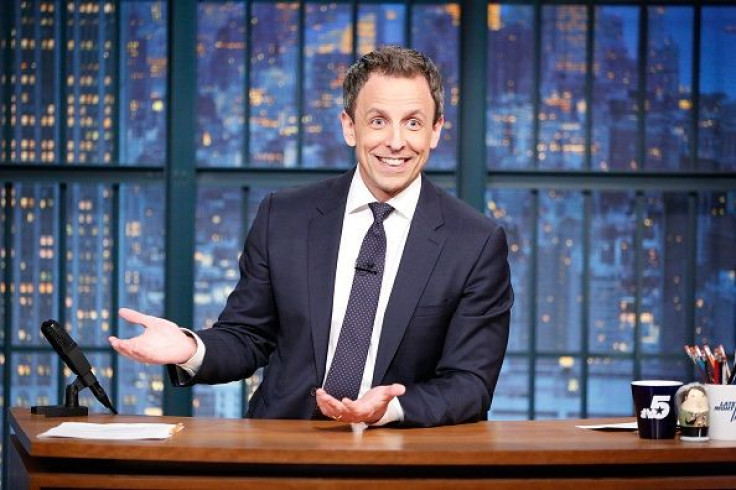 When Stephen Colbert took over CBS' "Late Show" in September 2015, hopes ran high that we would get a late-night host who would stand out among the sea of bland singing white guys dominating the circuit as of late. The politically savvy Colbert, the thinking went, would be the perfect person to steer us through this absurd election cycle and beyond.
But something weird happened. Colbert hasn't become that host, at least not yet. Instead, the person who has taken up the mantle is Seth Meyers, on NBC's "Late Night With Seth Meyers."
It's showing in the numbers: Even though Colbert is on a full hour earlier, Meyers is frequently nipping at his heels in the all-important 18-49 demographic, and sometimes he even beats him. (He did just last week.) He also consistently beats out time-slot competitor James Corden of CBS.
If digital metrics are more your bag, Meyers has a little more than 500,000 subscribers on his YouTube channel; one bit has more than 11 million views. Corden's "Late Late Show" channel has 5.6 million subscribers, thanks to blockbuster segments like "Carpool Karaoke." And NBC "Tonight Show" host Jimmy Fallon, of course, dwarfs everyone in the ratings and is a champion in the viral video arena.
But where hosts like Fallon and Corden and ABC's Jimmy Kimmel take superficial jabs at the news or politicians, "Saturday Night Live" alum Meyers goes deep in segments like "A Closer Look," in which he'll dismantle the media, political campaigns, or any idiocy that flares up in the world. And he does it in a way that's intelligent, funny and sharp without veering into nastiness.
Colbert will do similar bits on occasion. His latest takedown of Donald Trump, in which he slyly diagrammed a swastika while connecting things Trump has said, was exactly the kind of bit his audience expects and craves. But Meyers and "Late Night" just seem so much more sure of who they are, so much more confident that their audience wants to hear what they want to say.
The "Late Night" aesthetic is related, in a way, to the death of the idea of the "View from Nowhere" in media, or at least a fundamental shift in late night that started with the arrival of Jon Stewart's "The Daily Show."
Ostensibly, broadcast late-night shows are meant to entertain; hosts have a duty to appeal to the broad (though steadily shrinking) swath of people who tune in before nodding off.
Late-night hosts of yore like Jack Parr and Johnny Carson made their bones with humor that went down easy. "Carson would be topical, but he wasn't going against the consensus opinion," David Bushman, TV curator for The Paley Center for Media, told International Business Times. "That was part of his appeal — he was basically voicing the consensus opinion."
This was during a time of network hegemony, Bushman added. You played by the networks' rules, and they played by the sponsors' rules. The sponsors' rules were, essentially, "Don't make the audience uncomfortable." After outspoken cable late-night hosts started cropping up, though, broadcast found itself having to play catch-up.
But perhaps even more than Stewart's entry into the fray, 9/11 marked a turning point for broadcast late night. "[David] Letterman coming back on the air and delivering that monologue about it changed the game," Bushman said. "People were wondering if it was OK to be funny. Now, there's this pressure to seem substantial. If you don't, you seem shallow and irrelevant."
And while more and more media attention is being heaped on the late-night clips that are passed around online the morning after air, the real money is still in TV, and the ads that air during it, and so capturing and keeping a TV audience is still essential.
Meyers is keenly aware of this potential dichotomy. "With all late-night shows there's a sense of, 'Ah, we're settling into something that's comfortable and familiar,'" he told comedian friend John Mulaney onstage at a recent event at the Paley Center for Media in New York.
But he also came from "Saturday Night Live," where he was head writer for eight years and hosted the "Weekend Update" segment, first with co-star Amy Poehler, then alone, when Poehler left "SNL." So he's naturally inclined toward that method of delivering the news, and more comfortable with possibly contentious interviews with politicians like Ted Cruz. "I think the key is to be fair," Meyers said. "You have to show that you're going into this with an open mind."
And by all accounts, that's just fine with Meyers' bosses at NBC and parent company Comcast.
"All of us can only do the late-night show that's interesting to us," Meyers told IBT. "If anything, NBC was really happy when we made the show even more newsy," he added.
Meyers ditched the standard standing monologue format a little more than a year into his "Late Night" tenure, opting instead to start the show from his desk. This is his strength, honed over those eight years — delivering the news with a side of biting analysis from behind a desk.
There are other standout elements as well. In "Jokes Seth Can't Tell," he brings out two writers — Amber Ruffin and Jenny Hagel, a black woman and a lesbian, respectively — to tell the jokes that Meyers, "as a straight white man," can't.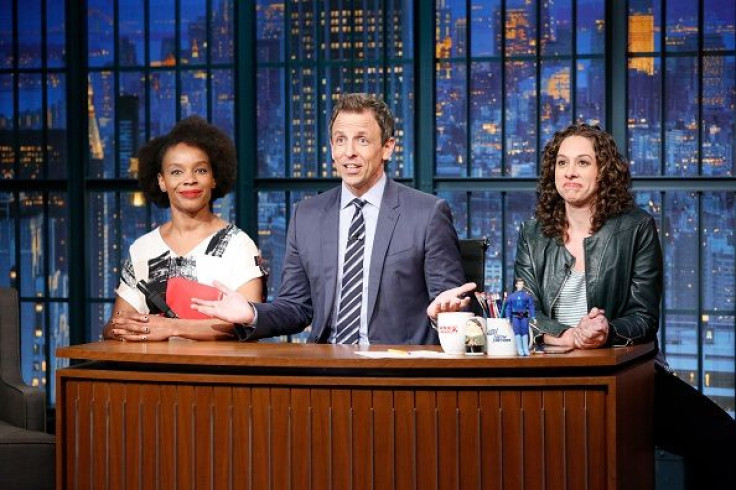 Some of these may not be as instantly "viral" as, say, Fallon's "History of Rap" collaborations with Justin Timberlake, but they have a respectable audience, and they're further evidence of a show that doesn't feel the same kind of pressure to churn out fluff for the sake of racking up YouTube views.
That doesn't mean Meyers and his writers hold themselves above the pop-culture zeitgeist. Some of their most popular bits are pre-taped vignettes where Meyers brings "Game of Thrones" character Jon Snow to a dinner party or "Game of Thrones" character Melisandre to a baby shower. (If you're sensing a theme here, yes, Meyers is a big "Thrones" fan.)
Not everyone loves Meyers. Take presumptive GOP presidential nominee Donald Trump: He and Meyers have a history that extends back to the 2011 White House Correspondents' Association dinner, which Meyers hosted. Among the many barbs Meyers launched Trump's way was the devastating "Donald Trump has been saying that he will run for president as a Republican, which is surprising, since I just assumed he was running as a joke."
A few days after, Trump appeared on "Fox and Friends" and called Meyers "a stutterer." He's reiterated the insult throughout the intervening years.
"You are, to a fault, articulate," Mulaney told Meyers. "But I remember after a few times you told me in your office, 'I don't mumble ... do I?'"
"That's the power of Donald Trump," Meyers responded. "He's so relentless that I started to think, wait a minute, I do have marbles in my mouth! He's a 1950s bully: 'What's up, marble-mouth?'"
The interesting thing about Meyers describing Trump as a bully from a bygone era is that, in that time, Meyers would likely have had to give someone like Trump a pass. No longer. "Late Night With Seth Meyers" is that rarest of breeds: the broadcast late-night show we need, and the one we deserve.
© Copyright IBTimes 2023. All rights reserved.