Shayanna Jenkins: How Aaron Hernandez's Fiancée Responded In 2017 Murder Trial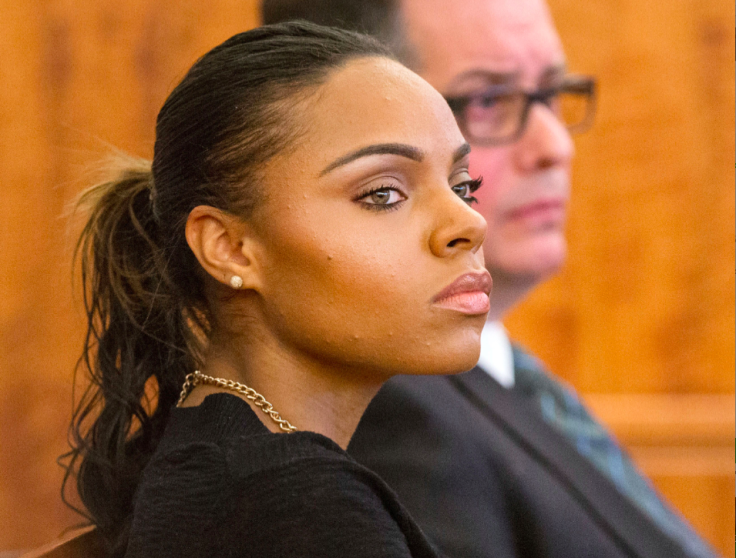 Shayanna Jenkins, the fiancée of former New England Patriots tight end Aaron Hernandez, took the stand in 2015 and 2017 to testify in his murder trial. The athlete was found dead Wednesday from an apparent suicide five days after he was acquitted in a double killing. He was serving a life sentence for the first-degree murder of semiprofessional football player Odin Lloyd, who was killed in June 2013.
During the March 2015 trial, Jenkins talked about Hernandez's infidelity, which she discovered when she looked through his phone. "I made a decision that if I was going to move back in with Aaron that I would have to compromise on his behavior and that included infidelity and everything that came along with it," she said at the time. "I decided that it was worth fighting for, so I moved back."
READ: Shayanna Jenkins' Testimony In Aaron Hernandez's 2015 Murder Trial
Jenkins threw out a box for Hernandez the day after Lloyd was killed. She said she didn't know what was inside of it and never asked. Some claimed the box contained the murder weapon.
There's no known motive for why Hernandez murdered Lloyd.
A month after Hernandez was found guilty, perjury charges against Jenkins were dropped. She was accused of lying to the grand jury multiple times. She had pleaded not guilty.
"I'm feeling great," she said at the time, according to ESPN. "I'm happy to start my future with my daughter and move forward." The couple shared 4-year-old daughter, Avielle, together.
In the 2017 murder trial, Hernandez was accused and acquitted of killing Daniel de Abreu and Safiro Furtado outside a Boston nightclub in July 2012.
Jenkins admitted she found a gun in junk drawer of their home. Even though she was "concerned" she was not "bothered" by it. Jenkins testified that while she was with Hernandez she would stay quiet and learned "not to ask any questions," depending on the situation, the New York Daily News reported March 30.
She added she didn't remember talking to her fiancée about the shooting. An expert, however, claimed Hernandez called Jenkins seconds after the alleged double murders took place.
Follow me on Twitter @mariamzzarella
© Copyright IBTimes 2023. All rights reserved.