Sheldon Adelson To Hold College Anti-Semitism Meeting To Tackle Israel Critics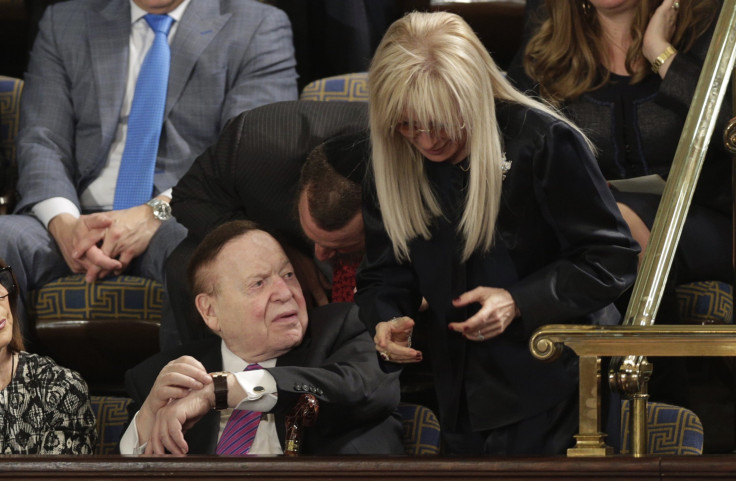 A group of wealthy and influential pro-Israel donors reportedly will meet in Las Vegas this weekend to discuss strategy and funding for combating rising anti-Israel sentiment on college campuses. The meeting will be held at a hotel owned by Sheldon Adelson, a billionaire casino magnate and major supporter of pro-Israel public policy.
The meeting will include Hollywood entertainment magnate Haim Saban, real-estate developer Adam Milstein and businesswoman Heather Reisman, reported Forward.com, which relied on off-the-record interviews with Jewish advocacy group sources. These super wealthy Israel supporters are concerned with an uptick in anti-Semitic episodes, like vandalism or graffiti, on U.S. college campuses. The number of such events increased 38 percent in the 2014-15 school year, according to the Anti-Defamation League, which monitors anti-Semitic activities.
"These incidents are troubling and are generating heightened concern in the Jewish community about the atmosphere on campus for Jewish students," ADL Director Abraham Foxman told the Times of Israel. "While the vast majority of Jewish students report feeling safe on their campuses, the incidents reported at certain schools are disturbing and must be proactively addressed."
Jewish organizations on college campuses are growing fast. There already are operations and clubs geared at students and set up by most major pro-Israel groups. On the other side of the debate, many schools have felt a push to divest from Israeli financial holdings.
Adelson's weekend meeting was hastily pulled together, and many of those invited seemed uncertain of its exact purpose, Forward.com said.
Off campus, a movement toward anti-Israel divestment and boycott programs has been felt around the country, and leaders in several state legislatures have attempted to grapple with the issue. In May, Illinois became the first state to approve legislation to combat the boycotts, prohibiting the state pension fund from investing in companies that are engaging in the boycott. Others, like Tennessee and Indiana, have adopted resolutions, but not laws, addressing the issue.
"Let's be clear from the outset: The [boycott] movement, the effort to support boycott, divestment and sanctions against Israel, is sinister and malicious and is having a negative effect on Jewish students on some campuses and on the wider Jewish community," wrote Abraham Foxman, ADL's national director.
The movement comes at a time when the Obama administration, which is in negotiations with Iran over its nuclear weapons program, is continually at odds with Republican lawmakers in Washington over the dangers posed to Israel by a potential deal. Iran is considered by some to be a major threat to the continued existence of Israel. The negotiations and philosophies regarding how to provide adequate support for the Jewish state in an increasingly volatile region have been a continual source of conflict between Republicans and the administration.
Adelson is no stranger to using his money to help those who agree with him on Israel. In 2014, he was the eighth biggest individual donor to federal politicians, dropping slightly more than $5.5 million to support conservative candidates. In the run up to 2016, he has been courted by several Republican presidential hopefuls hoping to get in his good graces.
© Copyright IBTimes 2023. All rights reserved.