Sherin Mathews Update: Family Car Was Missing Morning Texas Toddler Disappeared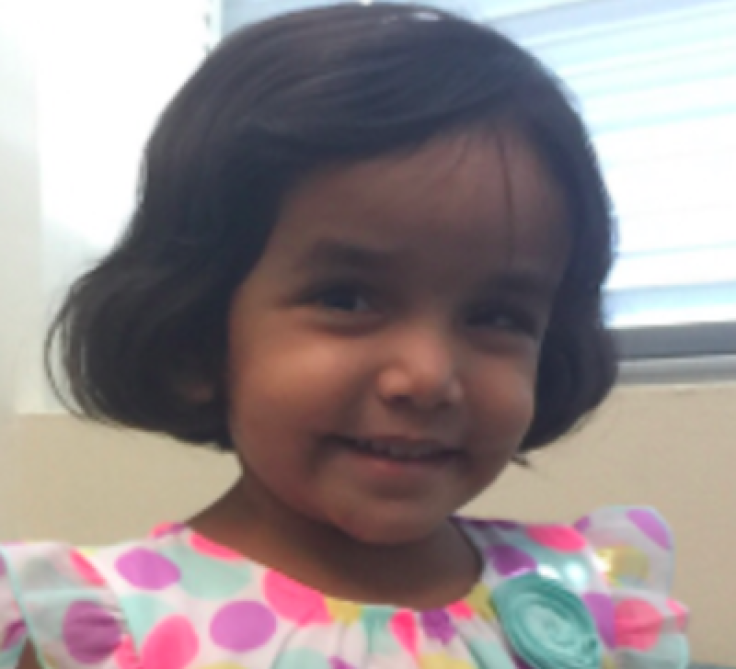 It's been almost a week since 3-year-old Sherin Mathews went missing after being left outside by her father as punishment for not drinking her milk. Now police are saying the family car was missing the very morning Sherin disappeared.
"We have information that the Mathews' 2013 maroon Acura MDX SUV was absent from their residents on Sunningdale between the hours of 4 a.m. to 5 a.m. on Saturday October 7th," Richardson Police Department said in a Facebook post Thursday. "We are asking for residents and business owners within an area where this vehicle could have traveled within that hour to review and preserve any video possibly containing this vehicle."
Sherin's father, 37-year-old Wesley Mathews, said he made her stand beneath a tree about 100 feet from their home at 3:00 a.m. because she wouldn't drink her milk. When he returned, she was gone, he said. Wesley told police he went out to search for her on his own but returned home when he couldn't find her. He finally notified police of her disappearance at 8:12 a.m. Sherin's mother, Sini Mathews, was reportedly sleeping when she vanished.
"While he was waiting he did a little laundry and hoped that the light would come around and he could do a better check," said Richardson Police Sgt. Kevin Perlich. "That does not seem like a normal response that one would do if you have a missing child."
Wesley Mathews was arrested on charges of endangering a child but was later released after posting $250,000 bond. Both parents are now refusing to cooperate with police, according to KTVT. Authorities seized cellphones, laptops and three vehicles and were reviewing nearby surveillance footage as part of the investigation into Sherin's disappearance.
Sherin, who reportedly suffers from developmental issues and has limited communication skills, was adopted by the Mathews family two years ago from an orphanage in India. In the wake of her disappearance, Child Protective Services has said they've dealt with the family before but released no further details. A 4-year-old girl was removed from the house after Sherin went missing.
Both parents have hired their own lawyers. Kent Starr, who is representing Sheri's mother, said she was "distraught" over her daughter's disappearance.
"She does not know the whereabouts and all she wants is for her daughter to be returned," Starr told KTVT.
Wesley Mathews told police that coyotes were often seen in the area where he left Sherin. Police, however, said there's no evidence she was grabbed and dragged away by an animal.
Sherin was last seen wearing black pajama bottoms, a pink top and pink flip flops. She is 22 pounds and 3 feet tall. Anyone with information is asked to call 911.
SaveSave
© Copyright IBTimes 2022. All rights reserved.
FOLLOW MORE IBT NEWS ON THE BELOW CHANNELS