'Shoot! Goal To The Future' Episode 1 Live Stream Details, Spoilers, Release Date
KEY POINTS
"Shoot! Goal to the Future" Episode 1 is releasing Saturday
The episode will stream on Crunchyroll
The series is based on Tsukasa Ooshima's original work
Kakegawa High School was once renowned for its powerful soccer team. It even gave the world some fine soccer players. Unfortunately, the school's soccer team is in shambles.
The official website has released the synopsis and spoiler stills of "Shoot! Goal to the Future" Episode 1. The pilot episode introduces the main character Hideto Tsuji, who is spending empty days and is not bothered about the soccer team.
One day, Hideto's classmate invites him for a game. However, Hideto is traumatized by the sport and has no intentions to play.
Later, at the park, Hideto meets with Atsushi Kamiya, a former captain of the Kakegawa High School soccer club. And things are about to change for Hideto.
"Atsushi Kamiya, a former captain at Kakegawa High School and the world-renowned "courageous captain" for a famous Italian soccer team… And Hideto Tsuji, a student at Kakegawa High School, who seems uninterested in the now-weakened soccer team… Their meeting is the start of a new legend," read the official series synopsis via Crunchyroll's press release.
The cast of the anime series includes Chiaki Kobayashi as Hideto Tsuji, Shunichi Toki as Subaru Kurokawa, Tomoaki Maeno as Ryū Sahara, Yugo Sato as Kei Matsuhashi, Yuichiro Umehara as Atsushi Kamiya, Yūki Ono as Jō Kazama, Yūya Hirose as Tōya Nakano, Yūya Hozumi as Kazuki Yamaguchi, Daisuke Hirose as Hinata Tatsunami, Junichi Saitou as Takumi Sonoda, Kentarō Mashiro as Tsubasa Namioka, Kousuke Toriumi as Yoshiharu Kubo, Ryōta Suzuki as Ryūji Amagai, Ryūnosuke Matsumura as Sо̄ma Hayashi, and Shimba Tsuchiya as Kōhei Kokubo.
The anime is based on the original work by Tsukasa Ooshima. Noriyuki Nakamura is the director while Mitsutaka Hirota handles the series composition.
The character design is by Yukiko Akiyama and sound direction is taken care of by Hiroshi Yamamoto.
"Shoot! Goal to the Future" anime is produced by EMT Squared.
The opening theme song of "Shoot! Goal to the Future" anime is titled "Aoreido" and is performed by Airi Miyakawa. The ending theme song is titled "Rivals" and is performed all at once.
"Shoot! Goal to the Future" Episode 1 is scheduled to air Saturday. Fans in the U.S. can watch the episode online on Crunchyroll. The installment will stream in Japanese with English subtitles.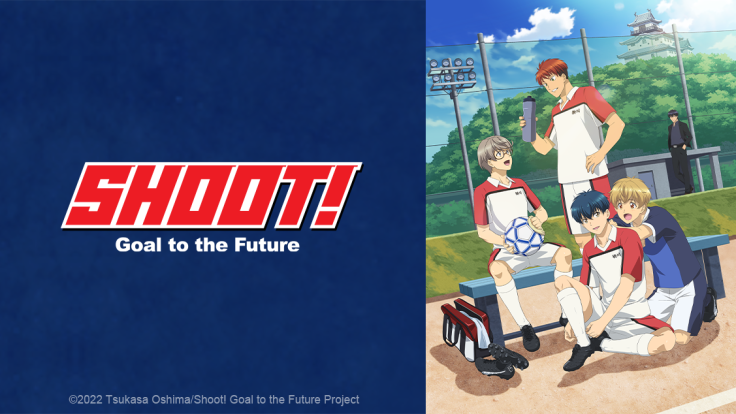 © Copyright IBTimes 2023. All rights reserved.