Six Flags Great America Shooting: Everything To Know About Illinois Gun Laws
KEY POINTS
The "red flag law" passed in 2019 was not exercised until Highland Park shooting
The stringent gun laws in Illinois have not translated to lower gun-related crimes
The Six Flags incident was not a mass shooting incident, police said
Visitors at the Six Flags Great America amusement park in Gurnee, Illinois, were running for cover as the sound of gunshots sent a wave of panic through the park Sunday night. Three people had been shot and injured in the parking lot, and many were terrified that a mass shooting was unfolding at the amusement park.
The incident occurred just 10 minutes before the 8 p.m. closing time. Six Flags often has a large public presence and follows rigorous security checks as they let people can pass through the gates.
The incident, initially thought to be a mass shooting, is the second of the kind reported in Illinois after the Fourth of July shooting, where seven people were killed and dozens of others were injured in Highland Park, a tragedy that the community is still recovering from.
In the face of such incidents, the focus is always driven back to gun access. In the Highland Park shooting, Robert Crimo III, 22, used an AR-15 style rifle to carry out the carnage. Further investigation revealed he had an expansive gun collection, all of which was legally purchased.
Crimo, who has a virtual footprint of violence, was allowed to acquire the ammo easily. Let's take a look at Illinois' gun laws that are at the epicenter of these tragedies.
Gun Laws in Illinois
Illinois has among the most stringent gun laws in the country, but that has not been effective in reducing firearm-involved crimes. One of the reasons being the inflow of weapons from surrounding states, including Wisconsin, that allows even minors to carry rifles in public.
A grim example of this was a heavily-armed Kyle Rittenhouse who fatally shot two people during the Kenosha protests when he was just 17 years old.
"We are surrounded by states that have far more lenient gun laws and until those states are brought into line with the rest of us, we're going to have this scourge," Highland Park mayor Nancy Rotering had said during a news conference in mid-July.
Rotering urged Congress to pass a federal ban on certain type of weapons at the same event.
Illinois residents need to have a valid Firearm Owners Identification (FOID) card to legally possess firearms or ammunition. Rep. Mark Batinick, R-Plainfield, proposed a plan to strike out the ease with which people under 21 can acquire this identification with their parents' written consent.
Batinick has proposed parents and legal guardians be criminally liable for gun violence caused by their wards who had FOID cards acquired with consent. The current laws hold parents civilly responsible for damages from illegal use of firearms or ammunition.
"If you're going to buy guns for somebody that is under 21 or you're going to sponsor their FOID card, then you're going to take some responsibility for that individual's actions," Batinick said, according to Heart of Illinois.
"We can pass as many laws as we want, but if there aren't people in the public that are being diligent about this situation or these types of situations, they're not going to do any good," Batinick added, further pushing for bipartisan support for gun control measures.
In the wake of the Highland Park tragedy, Illinois governor J.B. Pritzker told state police to implement an emergency rule change that could block residents from obtaining FOID if their records have been troubling. This move was proposed taking Crimo III's record into consideration.
The Highland Park shooter had threatened to kill his family and also allegedly threatened suicide months before he had applied for the card, as per Yahoo.
Crimo was able to acquire the card because he only applied for it months after a "clear and present danger" report was filed with the state following one of the troubling incidents. The card could've been confiscated if he was already in possession of one, or his application could've been rejected if he was awaiting approval of the same.
"For the sake of public safety, any FOID applicant with prior clear and present danger information needs to have that considered when having their application processed. These changes will immediately allow ISP to see a fuller picture of an applicant's history and keep the people of Illinois safe from those who should not be in possession of firearms," the governor said in a statement.
State police said administrative rules had "unnecessarily limited and complicated" their use of clear and present danger information.
"These modifications to administrative law will immediately give the ISP the legal authority to consider more evidence when determining whether to issue or revoke a FOID card and will strengthen the ISP's ability to keep firearms out of the hands of dangerous individuals," Illinois State Police Director Brendan Kelly said.
Illinois had passed the "red flag law" known as the Firearms Restraining Order Act in 2019, which allows authorities to take away guns from the possession of troubled individuals. However, the state had barely exercised this law before Crimo unleashed terror amid the Independence Day celebrations.
Illinois state Rep. Denyse Stoneback, D-Skokie, acknowledged that the lack of funding and awareness about the act among law enforcement could've kept the guns in Crimo's hands. She passed a bill for a $1 million education campaign for both police and the public about the law, reported Politifact.
"It was a lack of implementation, for sure. The firearms restraining order law in Illinois was established to catch situations like these – where you have an individual who's having either mental health issues or a person in crisis, and they are a threat to themselves or others," she had said a week after the shooting.
"This person should not own or possess or be able to purchase firearms. And unfortunately, in this case, there were many missed opportunities for intervention and prevention of the tragedy that we saw unfold in Highland Park," Stoneback added.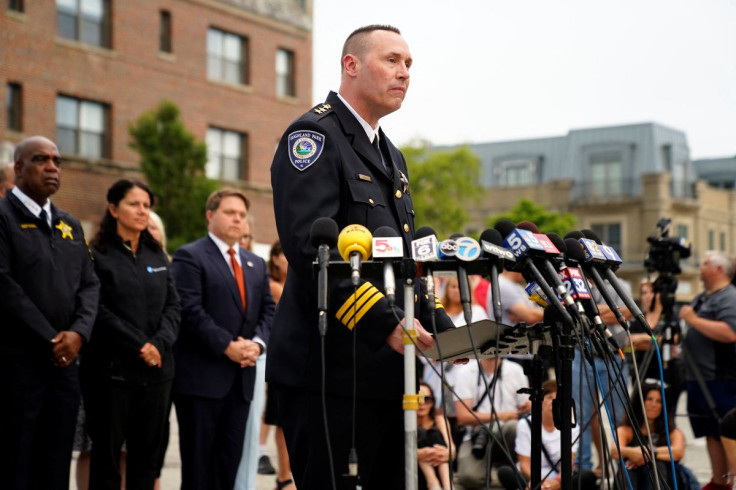 © Copyright IBTimes 2023. All rights reserved.