Slavery In 2017: Forced Labor Comes In Unexpected Forms In Human Trafficking, Study Says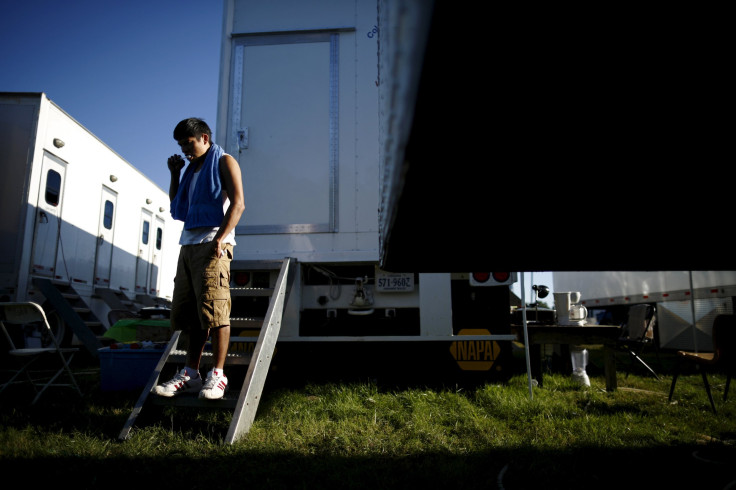 Human trafficking, which can essentially be described as modern slavery, is among the world's most lucrative criminal enterprises with estimates reaching as high as $420 billion a year. The types of labor exploitation vary greatly, with everything from escort services and domestic work, to more unexpected industries, such as forestry, carnival work and health care.
A new report from Polaris, a non-profit organization fighting modern slavery, analyzed the cases of 32,000 human trafficking from the past 10 years, and grouped those cases into 25 different businesses.
Read: Prison Slavery: Over 50,000 Detainees Claim Forced Labor, Sue Private Prison Company
"Because human trafficking is so diverse ... you can't fight it all at once and there are no single, silver bullet solutions. You have to ... fight it type by type," Bradley Myles, CEO of Polaris, told reporters on a press call Wednesday. "We see this report as a major breakthrough in the field."
Read: Human Trafficking Statistics 2017: Hotline Reports 35 Percent Jump In Cases
Since human trafficking is done illegally and bypasses any sort of documentation, it's difficult to know the comprehensiveness of available data. But the number of human trafficking incidents rose from 6,607 in 2015—5,550 cases related to sex trafficking and 1,057 to trafficking for forced labor for forced labor—to 7,572.
Although data of human trafficking suggest that labor trafficking is a small percentage of trafficking as a whole, the Polaris report argues that labor trafficking is vastly underreported.
"We realize through the work we've done that labor trafficking is probably at least as prevalent, if not more so, than sex trafficking," Janet Drake, a senior assistant attorney general in Colorado, told NPR. "And that's a real problem we've had as prosecutors – being able to identify and disrupt these labor trafficking networks."
Many of those who are trafficked are immigrants. In fact, about a third of the cases involved immigrants without legal status in the U.S., who don't have the option to simply leave their job for fear of being deported. Women from Latin America were often promised good wages or romantic relationships, but in the end, were tricked into forced labor.
"With this greater understanding, we can begin to develop strategic campaigns to spur systematic action, unite disparate efforts, allocate limited resources, and facilitate effective interventions to combat the crime," the report stated.
© Copyright IBTimes 2023. All rights reserved.