'Sleepy Hollow' Season 2 Spoilers: Who Are The Four Horsemen? New Season Explains Chilling Back Story Of Ichabod's Enemies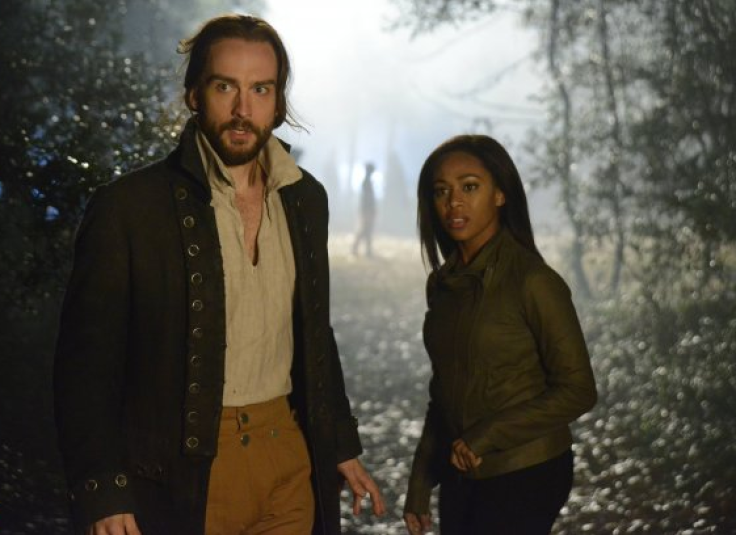 The Horsemen are back and they're badder than ever! That's right, "Sleepy Hollow" fans. Your four favorite (nearly almost) decapitated villains of the Fox series will be bringing more drama to Season 2. So much, in fact, that you might just lose your head! Pun totally intended.
According to executive producer Len Wiseman, "Sleepy Hollow" viewers will get to learn a little bit more about the evil entities attempting to take over the world.
"We'll see ever more how the four of them are tied together," Len Wiseman dished to TV Guide.
Who exactly are the Four Horsemen? We've got you covered! The foursome is a supernatural force who was summoned by Moloch. Moloch, an ancient demon, is the main antagonist of Season 1 and calls upon the Four Horsemen in hopes of bringing forward the Apocalypse.
The Four Horsemen represent conquest, war, famine and death and ride atop horses that are black, red, pale and white. Although only Death and War have made their debuts in "Sleepy Hollow," all four have appeared to Ichabod Crane in a dream. During a vision his wife, Katrina, urges her husband to stop them from causing the Apocalypse.
The end of Season 1 reveals that the Four Horsemen were once normal men who sold their souls over to Moloch. All of them still have their heads, except for Death. His was decapitated by Ichabod during a battle.
Although we're excited to meet the rest of the horseback riding gang, Season 2 of "Sleepy Hollow" will focus mainly on the theme of war.
"It's a season about war," Mark Goffman, executive producer, explained to TV Guide. "It's a season about redemption."
"We'll see how War actually operates," he continued of Season 2 drama. "War [is] a vehicle that Jeremy uses to do his bidding in a way that is really cool and very creepy."
Jeremy, previously known as Henry Parrish, was revealed to be Ichabod and Katrina's son in Season 1. According to reports, Henry Parrish's John Noble will become a regular in Season 2. His character is pretty annoyed that his parents left him locked away in a coffin for two centuries and because of his bitterness, he became the Second of the Four Horsemen of the Apocalypse after being released by Moloch.
"What do you do when your son becomes the Horsemen of the Apocalypse? That's what Ichabod is going to have to contemplate if he gets out of that pine box," Goffman explained.
That's where Season 2 will begin when "Sleepy Hollow" returns to Fox in the fall -- with Ichabod attempting to escape the same fate his son endured. He'll definitely get out of there… right?
© Copyright IBTimes 2023. All rights reserved.