Snapchat Change Update: Petition, How To Get Rid Of New Redesign
The brand new Snapchat redesign is in the process of rolling out for all users around the world and many of them who already have it are not happy. The redesign was announced in November and months later users aren't very excited about it.
Users started a petition to urge Snapchat's parent company, Snap Inc., to revert the app, "Back to the basics." While there are several petitions circulating via the website Change.org, some have garnered more attention than others. One user with the Change.org under the username Nic Rumsey had nearly 60,000 signatures on the petition by Thursday. Another user, Morgs K, had nearly 14,000 signatures.
People on Twitter were upset about the new update as well. Upon trying the new update they said things like, "The majority of us can agree it sucks," and "The new Snapchat update is a literal example of just what not to do." Other users didn't agree though, some liked it, "Why is everyone hating on the new #snapchat update? I actually like it," said a user on Twitter.
Many of the complaints said the new design was crowded and less user-friendly. That is actually what Snapchat was trying to avoid, or at least said they were trying to avoid with the new update. Snap Inc. CEO Evan Spiegel said in a video in November that the new design would separate the social from the media in an attempt to make the app feel more personal for users.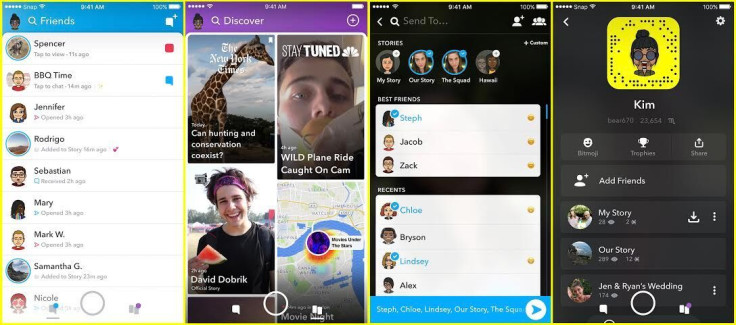 Spiegel also noted that when the redesign was first released, it could take some time for the app, "To learn the best way to display your Friends," in the app.
"Updates as big as this one can take a little getting used to, but we hope the community will enjoy it once they settle in," a Snap Inc. spokesperson told International Business Times on Thursday.
Some users have been using a VPN to get around the new update while others have been following steps to uninstall the software or to redownload an older version of the app. Users on Android devices can download an older version of the app by downloading the APK that corresponds to the old version they want.
Users with iOS devices can only get an older version of the app if it's hosted in their iTunes. If the version of Snapchat in iTunes is older, users can delete the app from their phone and then plug that device into their computer and select "Apps" and then "Install" this should download the older version of the app to the device.
© Copyright IBTimes 2023. All rights reserved.
FOLLOW MORE IBT NEWS ON THE BELOW CHANNELS