Social Distancing Reportedly Ignored By Many New Yorkers At Angels And Thunderbirds Flyover
KEY POINTS
NYC residents reportedly ignored social distancing while watching Navy and Air Force jets' perform
Blue Angels and Thunderbirds have a high-flying performance in honor of frontline workers
Local officials had a hard time preventing people from crowding together
Large crowds gathered Tuesday in New York to catch a glimpse of Thunderbirds and Blue Angels as they roared across NYC skies in a tribute to COVID-19 frontline workers. Hundreds packed shoulder-to-shoulder, seemingly oblivious to social distancing measures that have been put in place by federal and local officials, reports say.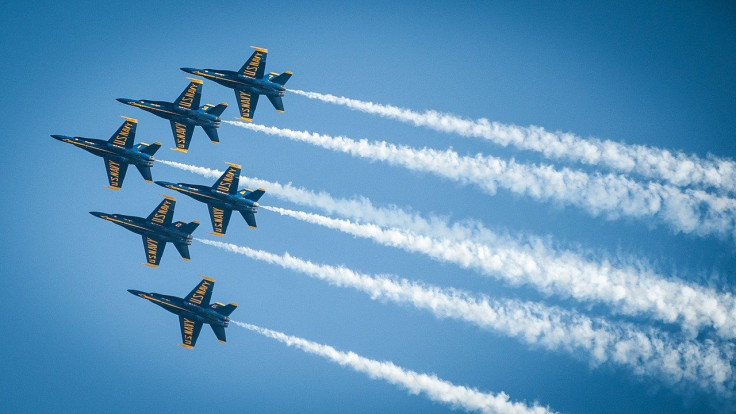 Large Crowds With Eyes To The Skies
Images of Tuesday's event were shared on various social media channels, showing huge crowds jammed together in different venues in New Jersey and New York. Most of them have their eyes glued to the sky for a glance at the famous jets. Reports say some people in the crowd have their masks hanging on their necks.
Local officials have a hard time preventing the people from crowding together. In an interview with The Post, Mayor Richard Turner of Weehawken, NJ, said: "It's just difficult." When asked about photos that showed hundreds of his constituents tightly standing together on the Hudson River waterfront, the mayor said there is not much more he can do. "You do the best you can, and you also have to rely on people's common sense," Mayor Turner said.
Protective Masks Given Away
The mayor said he had numerous streets closed off to traffic, and he also made sure telephone alerts were sent to residents about the importance of social distancing. The mayor said he even asked copes to hand out some 500 protective masks to residents. None of these measures, however, prevented residents from crowding the waterfront.
While the Weehawken mayor appreciated the federally organized flyover and called it a nice gesture, he said everyone should be mindful of the current crisis. "It's a very nice gesture, but whenever there's an attraction for large crowds we have to be as proactive as you can be," said Turner.
Similar Scenes Everywhere
Similar scenes were also reported in the five boroughs of NYC. Reports say that hundreds gathered to watch the high-flying performance seemingly in defiance of COVID-19 social distancing policies. A resident, when chanced upon by The Post for an interview, said he is not worried about the risks presented by the coronavirus outbreak. "I'm not worried about it. If you're outside you don't need to wear a mask," said 41-year-old Arthur Moss. He watched the show with some of his friends at the Gantry Plaza State Park in Long Island City.
The 40-minute demonstration by the US Air Force Thunderbirds and the Blue Angels of the US Navy involved the jets' first zooming over the George Washington Bridge at noontime. They then turned west over Newark then flew east over Lower Manhattan, Brooklyn, and Queens. The jets then buzzed over the Long Island Sound, looped around Westchester County, and then headed south toward Pennsylvania.
© Copyright IBTimes 2023. All rights reserved.
FOLLOW MORE IBT NEWS ON THE BELOW CHANNELS