Some Good News: Gulf Coast, South In For Quiet Weekend As Tropical Storm Beta Subsides
KEY POINTS
Flash flood warnings were still in effect for parts of the South and Mid-Atlantic as Beta continues to subside
No notable disturbances or storms are being tracked in the Atlantic Ocean or Gulf Coast region
One meteorologist said people along the U.S. coast still shouldn't let their "guard down"
Some flood warnings were still in effect on Thursday because of Tropical Storm Beta's remnants, but the South and Gulf Coast looks to have their first break from the 2020 hurricane season in over a month. The National Hurricane Center said that flash flood warnings were still in effect for parts of Mississippi, Alabama, and Tennessee, but that these would diminish heading into the weekend.
"Rainfall totals of 2 to 4 inches are expected through early Friday from central to northern Mississippi, across the Middle Tennessee Valley and into the southern Appalachians," the NHC's advisory said. "Isolated flash and urban flooding is possible, as well as isolated minor river flooding on smaller rivers."
The NHC also warned winds may be strong enough to cause "an isolated tornado or two" in parts of southern Alabama.
After Beta subsides completely, the weekend looks to be the quietest one for the South and Gulf Coast since early August. No notable storms have formed since Beta made landfall and no disturbances were detected in Atlantic Ocean. This is a much needed break for the regions hammered by the most active hurricane season since 2005, which produced 28 storms including Hurricane Katrina.
The 2020 season produced 24 tropical depression, so far, 23 of which became tropical storms. Eight of those storms became hurricanes and two were categorized as major hurricanes.
The break will provide many coastal communities a better chance to recover from multiple floods and damages caused by heavy winds. Many areas along the Texas and Louisiana coasts already saw the flooding from Beta subside on Thursday, allowing recovery efforts to begin somewhat sooner than expected.
However, some areas were still dealing with severe coastal flooding thanks to strong tides and heavy rainfall. Houston saw some of the worst flooding and many roads in the city remain closed after Beta dumped nearly 14 inches of rain on the area.
Weather.com meteorologist Ari Sarsalari also warned people should not let their "guard down" just because of a quiet weekend.
"Don't let your guard down because, again, we're still not far from the peak of hurricane season," Sarsalari said. "It was a little bit ago, a couple of weeks ago, but this is definitely a time of year where things can be really active."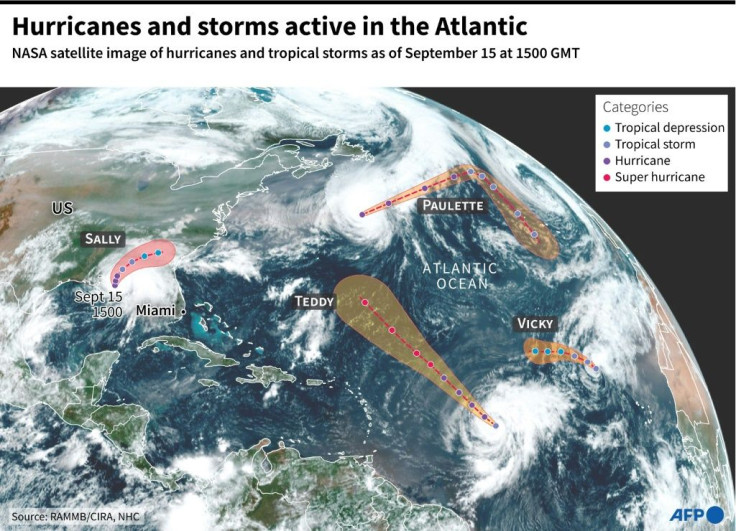 © Copyright IBTimes 2023. All rights reserved.