Some Police Join US Protests Against Brutality, Want Justice For George Floyd [Video]
KEY POINTS
Thousands of Americans and their police are marching peacefully to protest the killing of George Floyd
The episodes of brotherhood among residents and their local police forces are being increasingly seen across the country
There are violent riots and lootings, but these are apparently in the minority
Heartwarming episodes of brotherhood among local residents protesting the death of George Floyd in Minnesota on May 25 and their local police forces are being increasingly seen across more and more localities in the United States. They stand in stark contrast to the horrific scenes of destruction and mayhem in other cities by anarchists and criminals exploiting peaceful protests to commit crimes against people and property.
Police officers in Kansas City held aloft a sign that read "END police brutality," while cops in Camden, New Jersey, joined Black Lives Matter protesters in marching against police brutality.
Police in Ferguson, Missouri, knelt for nine and-a-half minutes in Floyd's memory, with cheers erupting from the crowd. And in Coral Gables, Florida, officers of the local police department took to one knee in response to Floyd's death.
In Santa Cruz, California, Police Chief Andy Mills took a knee with protesters. The police department later tweeted this act was "in memory of George Floyd & bringing attention to police violence against Black people."
Sheriff Chris Swanson of Genesee County in Michigan joined a crowd marching in Flint Township in honor of Floyd. He addressed the protesters before the march and said his officers wanted to be with them.
"I took my helmet off, laid the batons down," said Swanson to cheers. "I want to make this a parade, not a protest. These cops love you."
It has been reported protests have now hit more than 110 cities and towns throughout the nation. Most of these have been peaceful gatherings where people and their police have not resorted to violence against each other. There are more than 18,000 police departments around the country.
That these wonderful examples of peaceful solidarity aren't seeing more air time on major TV or cable news channels is perplexing many. Among these people is Rep. Eric Swalwell, D-CA, who tweeted Sunday: "I don't pretend to understand what it's like to run a news org. But most of tonight's coverage -- across most stations -- is focused on violence. Yet thousands in each city are marching peacefully for #GeorgeFloyd. Why not interview the peaceful protesters? They should be heard."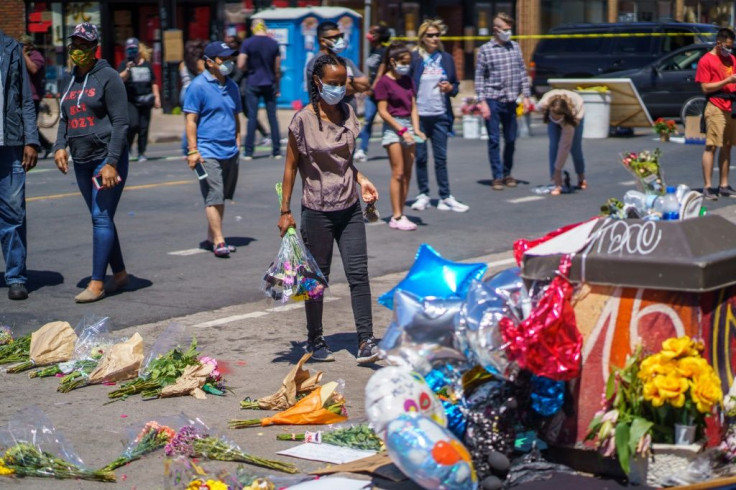 Most Americans have not resorted to violence to protest Floyd's murder. They're protesting peacefully, without a word of solace or a call to unity coming from President Donald Trump.
Broadcast journalist and reporter, Dan Rather, tweeted about the same: "I can imagine no other president in my lifetime failing to address the nation in a prime time speech during a crisis such as this. On the other hand, I cannot imagine another president whose words would be less welcome by so many of his fellow citizens."
Some Americans have turned to former president Barack Obama, with a Twitter user posting: "Trump refuses to address the nation today, because he's a coward who should resign. Obama should address the nation since we don't have a president."
© Copyright IBTimes 2023. All rights reserved.