Someone At The Vatican Is Illegally Downloading Porn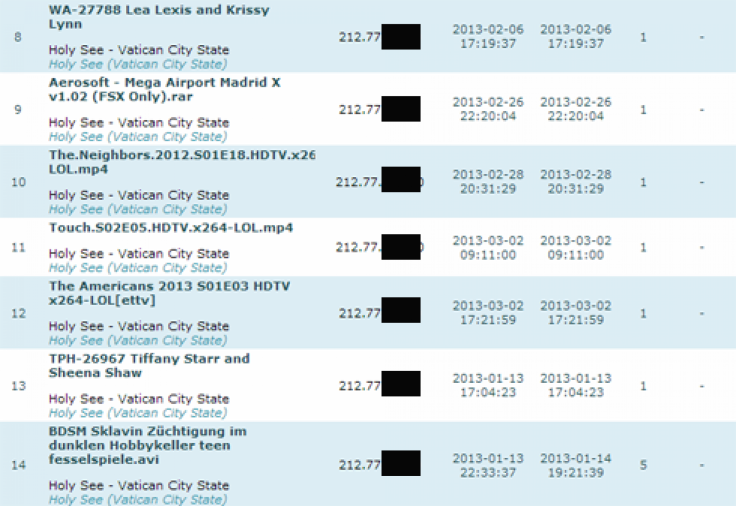 The Roman Catholic Church may have spoken out strongly against pornography, but that apparently hasn't stopped numerous Vatican City residents from illegally pirating porn.
The blog TorrentFreak took a look at illegal torrent downloads coming from Vatican City over the weekend and found some rather surprising results. Not only were Internet users located there downloading a few Hollywood movies and TV shows, someone has a very serious porn habit as well.
Inspired by a story of Irish monks pirating films for their home movie nights, TorrentFreak set out to investigate whether anyone from the Vatican illegally pirates movies or porn. Using the anti-pirating program ScanEye, TorrentFreak honed in on the specific downloads from IP addresses located in Vatican City. Because the Vatican is such a small area, it was relatively easy for the blog to sift through all the downloads coming from the city-state.
Surprisingly, Vatican users didn't have too much of an interest in modern Hollywood cinema -- the 10-year-old "Love Actually" was among the most popular films listed. TV shows like "Chicago Fire" and "The Americans" proved relatively popular, however.
One of the most shocking discoveries from the TorrentFreak investigation? Not only has someone at the Vatican been downloading porn, but apparently the Vatican porn aficionado is into some very hardcore BDSM porn at that.
One of the most popular results of Vatican porn was a movie named "BDSM Sklavin Züchtigung im dunklen Hobbykeller teen fesselspiele," which --according to a quick consultation with Google translate -- roughly equates to "teen play female slave shackled and punished in dark dungeon."
Other obviously pornographic videos listed on the Vatican search results included "TPH-26967 Tiffany Starr and Sheena Shaw" and "WA-27788 Lea Lexis and Krissy Lynn," which all include the names of porn stars. Gawker reports that the "WA" in the latter video stands for "whipped ass."
While the downloads are definitely coming from Vatican City, it's worth noting that there's no way to prove these BDSM porn downloads are coming from priests themselves. Several other groups such as the Papal Swiss Guard have routine access to the Vatican's Internet network and may have downloaded the offending material.
© Copyright IBTimes 2023. All rights reserved.