'Sons Of Anarchy' Season 7 Spoilers: Episode 13 Synopsis Released; What Will Happen In The Series Finale, 'Papa's Goods'?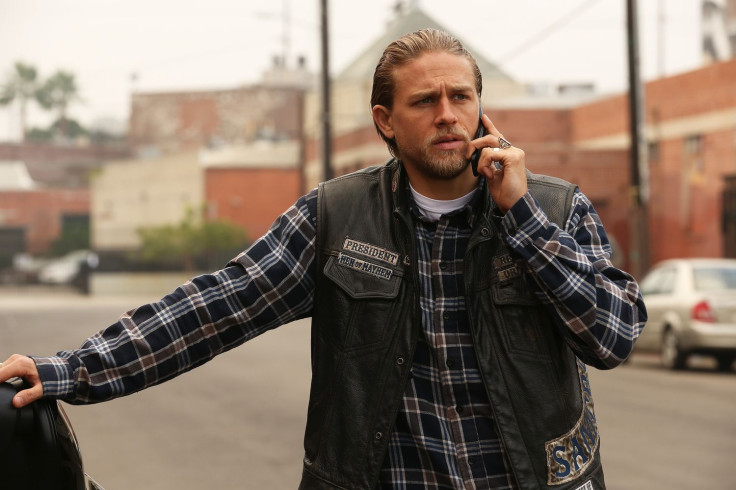 All good things must come to an end. And unfortunately for "Sons of Anarchy" fans, the hit FX series will be coming to a conclusion on Tuesday, Dec. 9, when the motorcycle drama airs its series finale. But with the bitter comes the sweet. Although the critically acclaimed series will be airing its final episode next week, Katey Sagal, who plays Gemma on "SoA," claimed that fans won't be disappointed with how the long-running series concludes.
"I can't really speak to where it's going, but the fans are going to be really satisfied," Sagal said during an interview with E! Online. And from the teasing synopsis of episode 13, we have a feeling Sagal wasn't pulling our leg.
The summary for "Papa's Goods," revealed that "SoA" will come full circle in the series final when Jax (Charlie Hunnam) "strives to follow in his father's footsteps" -- a path our protagonist has strayed from in Season 7.
When the FX series began in 2008, Jax, who was then acting as the Vice President of the SAMCRO, found his deceased father's manifesto, "The Life and Death of Sam Crow: How the Sons of Anarchy Lost Their Way," which explained how the Charming-based club became engulfed in a crime-ridden lifestyle and revealed John Teller's plan to change it.
Jax found comfort in his father's words and attempted to resurrect the founder's plan to drive the Sons away from the mayhem and into legitimate business -- even if that meant friction with his stepfather Clay (Ron Perlman). However, after years on his journey in an attempt to redeem his club's morals, Jax lost his way with the tragic death of his wife (Maggie Siff).
Tara's demise sent Jax in a dark, downward spiral, causing the president to throw away everything he was working toward. But it looks like Jax will attempt to right the wrongs (and deaths) he caused now that the truth has been revealed of who really killed the mother of his children.
Do you think Jax will finish what he started in separating his club from a life of crime? Sound off in the comments section below with your thoughts of how the "Sons of Anarchy" series finale will conclude on Tuesday, Dec. 9, at 10 p.m. EST.
© Copyright IBTimes 2023. All rights reserved.