'Sons Of Anarchy' Season 7 Spoilers: Episode 3 Gets Bloody When SAMCRO Makes An Ally And An Enemy [RECAP]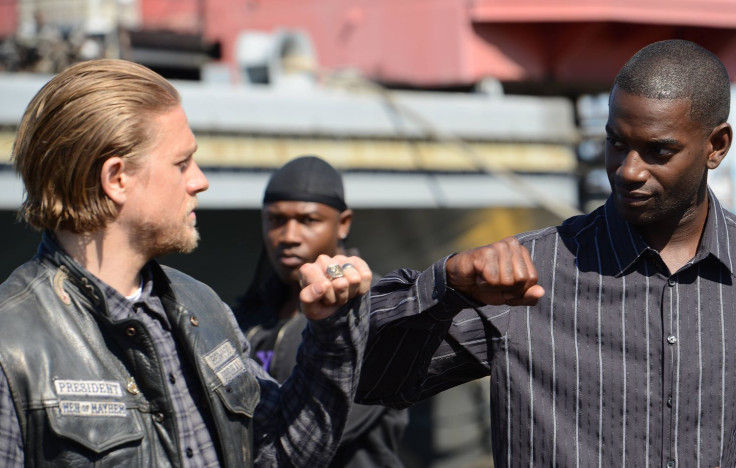 Looks like Halloween came early! "Sons of Anarchy" opened its episode 3 with a spooky -- or should we say sexy -- scene inspired by Mary Shelley's iconic story "Frankenstein." But instead of a creepy monster coming to life, a "Skankenstein" was born. And that was only the first clue as to why Kurt Sutter, creator of the hit FX series, dubbed tonight's episode "Playing with Monsters"
Episode 3 was chock-full of sweat inducing scenes -- starting with Jax's (Charlie Hunnam) one-on-one with the Triad. He explained how he found the two "peckerwoods" responsible for the raid on Lin's gun/drug trade and the Triad totally believed it. Well, kind of. They still want to look into the case themselves. And reasonably so. Little do they know Jax wants to ring the Triad dry after they allegedly killed his wife.
Jax then meets up with August (Billy Brown) and reiterates the entire faux story. But August isn't as gullible as the Triad. "Very convenient. Dead alibis," he said before threatening Jax that he's known as the deadliest man on the street for a reason. "Don't cross me, Jackson," he warned, adding that he has no remorse killing him or any of the other Sons.
Tyler (Mo McRae) from The One-Niners revealed to Jax that folk around town are speculating the Sons were the ones behind the gun down on the Triad. And Jax teased the truth when he made a deal the Oakland based street gang leader. He wants Niners to have SAMCRO's back when things start getting bloody. But the only way Tyler will agree to stick his neck out for the Sons is if Jax helps him take care of a little problem. But that little problem turns into a bloody mess by the time episode 3 ends. It's outstanding how Gemma's (Katay Segal) one lie could turn into a slew of wronged deaths.
Speaking of unjustified killing, Bobby (Mark Boone Junior) made a phone call to Jury (Michael Shamus Wiles) during tonight's episode to get information on the guys they killed to bolster their faux story. But Jury is clearly plotting something. He knows SAMCRO is the gang who planted the gun in his son's home and who brutally murdered the "local muscle." We can't wait for this storyline to play out.
The remainder of episode 3 is full of dramatic moments like Gemma getting into a fight with a father of one of the porn stars and Jax (Theo Rossi) beating the living daylights out of him in the final scene. But out of all the crazy moments it was the scene between Juice and Chibs (Tommy Flanagan) that gave us the chills.
Chibs received a phone call that his parole officer wanted to meet him. However, it turned out just to be Unser (Dayton Callie). Chibs is confused why the former sheriff wants to meet until Juice walked out. Juice said he held Unser by gunpoint to make the phone call, which is a lie. The two are actually pretty good buds at this point. The point of Juice meeting up with Chibs is to find out if there's a way her could get back into the MC.
"I need to know if there's something I can do to earn my way back. Please," he pleaded.
"If I were you, I'd get that gun, put it in my mouth and pull the trigger," Chibs coldly replied.
"I'm sorry, brother. I never meant to hurt the club. It's the only family I have. I love you," Juice says before walking out.
As soon as Juice gets up to leave Chibs attempted to chase after him but Unser held him back. The next scene show's Chibs spilling what happened to the club.
"He wanted to know if there was a way back in the MC," Chibs dished, adding that Unser knows only a bit about what's going on.
But meeting up with Juice wasn't Chibs only one-on-one of the day. He also had a flirty moment with Charming's new sheriff. The two bond over their scars and profits. Chibs gave the Sheriff an envelope full of money to stop the ABP on Juice going out but she wants intel on Ortiz. Chibs argued that Juice won't act as an aid to her case. They end with an agreement to help one another, giving SAMCRO another ally.
What did you think of episode 3? Sound off with what your favorite part of tonight's episode of "Sons of Anarchy" was in the comments section below.
FOR FREE to continue reading
✔️ Unlock the full content of International Business Times UK for free
offer available for a limited time only
✔️ Easily manage your Newsletters subscriptions and save your favourite articles
✔️ No payment method required
Already have an account?
Log in
© Copyright IBTimes 2023. All rights reserved.