'Sons Of Anarchy' Season 7 Spoilers: Jax Reveals How He Will Avenge Tara's Death In Episode 2; Recap On His Bloody Revenge Plan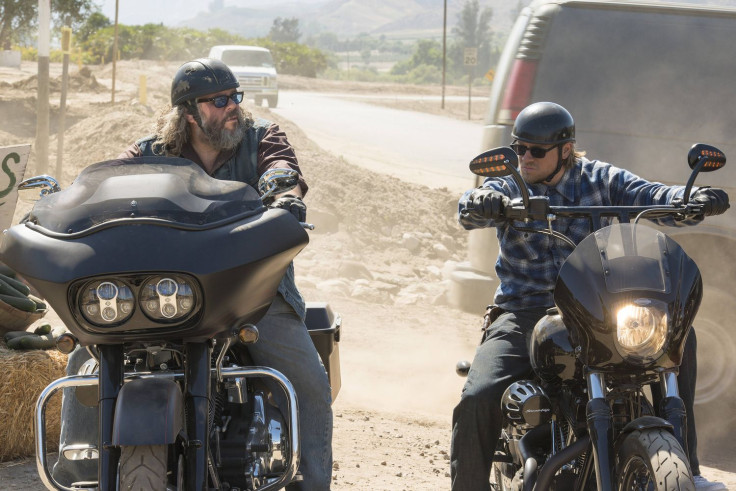 The quest for revenge continued when "Sons of Anarchy" aired its second episode of Season 7 tonight. "Toil and Till" kicked off with a scene of Jax abruptly waking up from his long night of torturing the innocent Triad member thanks to a noisy lawn mower. The protagonist of the hit FX series then took a seat at his kitchen table where he stared at the spot he found Tara lying dead in a puddle of her own blood.
But Jax isn't the only one spending his morning gathered around the kitchen. Nero, Gemma and Wendy hold a family chat about Abel's well being. Wendy suggested Abel goes to a "progressive" school, which is when Gemma puts the "junkie" on education duty.
"SoA" then revealed what Juice planned on during with Unser as his hostage during episode 2. When the Season 7 premiere concluded viewers were unsure what Unser's fate would be in the hands of the unstable SAMCRO club member. But as soon as Juice brought out the knife viewers knew Unser would be set free. However, instead of fleeing Wendy's apartment he hung around to chat with the clearly distraught biker. That's when Juice filled him in on his current -- not to mention unfortunate -- situation.
"What's Jax going to do if he finds you?" Unser asked.
"What do you think?" Juice responded.
But the most shocking scene of tonight's episode had to deal with Jax explaining his seriously gruesome plan of avenging Tara's death. Yep, it's even more shocking than watching Happy dispose of a decapitated head while sporting a HAZMAT suit.
While meeting up with Jury, Jax divulged his plan on taking down the Triads. According to the SAMCRO leader he wants to use his connections to get close to the Chinese while simultaneously taking down Lin's business, which we saw take place in episode 2 when Jax and the gang hit Lin's gun/drug delivery. Once Jax gains Lin's trust he will take down the person he believes is behind Tara's death.
In episode 1 Gemma placed the blame of Tara's murder on a random member of Lin's gang. Gemma hoped this would give her son closure but all it did was ignite the fire of a war between the two clubs.
"The first person he points to I'll kill," Jax said to Jury of wanting to kill the person Lin loves the most. After the first painful kill Jax revealed he would slaughter the remaining of Lin's loved ones, leaving him alive long enough to bask in the agony before meeting his own gruesome fate.
What do you think of Jax's revenge plan? Do you think he would be as equally as cruel if he knew his mother was the one who stabbed his wife in the head with a carving fork? Sound off in the comments section below with you "Sons of Anarchy" predictions.
© Copyright IBTimes 2023. All rights reserved.