At South Carolina Debate, Cruz, Trump, Rubio Urge Obama Against Supreme Court Nomination To Replace Scalia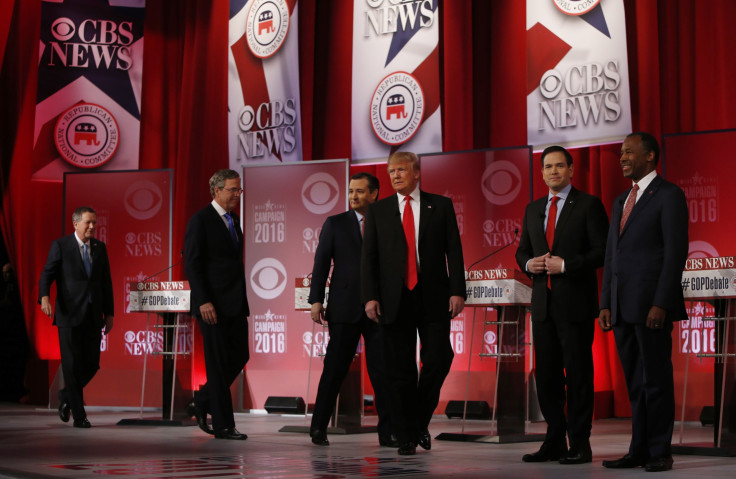 The six Republican candidates vying for their party's nomination took a moment of silence to remember Supreme Court Justice Antonin Scalia, who died suddenly Saturday. The candidates then quickly began by saying that President Barack Obama should let the next president choose Scalia's successor.
"I can say this, if the president, and if I were president now I would certainly want to try and nominate a justice," businessman Donald Trump said. "I hope that our Senate is going to be able to, Mitch [McConnell] and the entire group is going to be able to do something about it."
"This is a tremendous blow to conservatism. It is a tremendous blow, frankly, to our country," he continued before explaining how the Senate should proceed if Obama acts. "It's called delay, delay, delay."
Ohio Gov. John Kasich asked that the president think about not nominating a successor to replace Scalia and gave a critique of his competition for quickly making the justice's death a political matter. Florida Sen. Marco Rubio said that he is supportive of the fact that it will take 60 votes in the Senate to approve a Supreme Court justice nomination. Former Florida Gov. Jeb Bush said that he would nominate someone who has a proven record in the judicial system in order to make sure that they are a true conservative. Texas Sen. Ted Cruz also joined the chorus of people urging the president to refrain from nominating a new justice during an election year.
When you gotta delay #GOPDebate pic.twitter.com/j3KrJuf3yS

— Mic (@micnews) February 14, 2016
Scalia's death comes just as the Supreme Court is considering several important cases that could have a lasting impact on Obama's legacy. Those cases include a challenge to the president's controversial executive order to stop deporting the parents of young undocumented immigrants. The court is also considering one of the biggest attacks on abortion rights in the United States (Scalia was staunchly pro-life ), a voting rights case that could jeopardize the ability of black and Latino voters to cast their ballot, affirmative action and birth control.
It is unlikely that the president will be able to push a nominee through the approval process in the Senate, which has a somewhat slim Republican majority. The GOP has shown itself to be resistant to approving Obama's judge nominees in the past. At the end of last year, the Senate was stalling on approving at least 19 open judge seats in the federal judiciary .
That means that this session of the court will have an even number of liberal and conservative judges. When the court is evenly split on a ruling the lower court's decision is left standing.
© Copyright IBTimes 2022. All rights reserved.
FOLLOW MORE IBT NEWS ON THE BELOW CHANNELS