South Korea Military Command: US, Seoul Officials To Set Terms For Wartime Control Transfer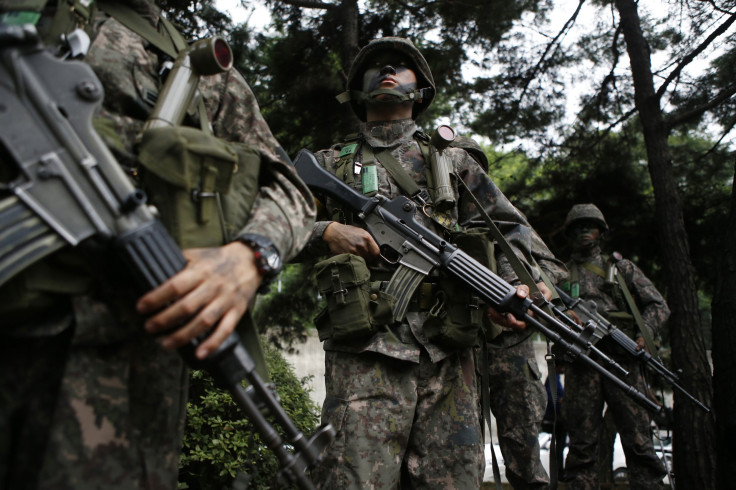 United States and South Korean officials will meet this week to discuss terms that would allow the South to command its military in the event of a war with North Korea, South Korean Vice Minister of National Defense Baek Seung-joo told the Wall Street Journal. The revised terms would supersede a previous plan that would have turned over control of South Korea's military to officials in Seoul by 2015.
Officials from both sides want South Korea's military to reach certain standards of preparedness and capability before the U.S. relinquishes control. The current system, which dates back to the Korean War, gives U.S. leaders the power to command both American and South Korean troops in the region in the event of an armed conflict. That agreement was deemed to be the best way to facilitate a unified, coordinated response during a dynamic war situation.
Central to South Korea's demonstration of its readiness is the development of the "Kill Chain," an early-warning system with the ability to incapacitate North Korean military installations during a conflict. Baek acknowledged that the system is not yet ready for action. "We have yet to reach the level that we want," Baek said. "We will be there in 2020."
Despite the South's push for control over its military, Baek stressed that continued military relations between the U.S. and South Korean were imperative to the prevention of future conflicts. As of now, the U.S. maintains a detachment of 28,500 troops in the country. "Any possible reduction or pullout of U.S. military troops in South Korea could give a wrong signal to North Korea or other countries in the region. We should approach this issue very carefully," he said.
The meeting between Baek and U.S. Secretary of Defense Chuck Hagel will occur amid renewed skirmishes between North and South Korean troops near the military demarcation line that divides the nations. The two sides exchanged gunfire Sunday after a detachment of 10 North Korean troops ignored warnings to cease their approach to the demarcation line, the New York Times reports. No casualties were announced.
The two sides also clashed on Oct. 10, when North Korean soldiers fired on South Korean balloons that carried leaflets which decried North Korean leader Kim Jong Un, Reuters reports. Days later, military leaders from both nations met for the first time in more than three years, but were unable to reach a resolution regarding the skirmishes.
© Copyright IBTimes 2023. All rights reserved.