S&P Downgrade Of NJ Credit Deals Fresh Blow To Gov. Chris Christie
In a significant blow to Gov. Chris Christie, Standard & Poor's on Wednesday said it is downgrading New Jersey's credit rating. The announcement said Christie's management of New Jersey's $78 billion pension system has "significant negative implications" for the state's finances. S&P also cited the state's below-expected tax revenues as a factor that "put additional pressure on future budgets." The downgrade comes as Christie aides have been publicly suggesting that the governor's fiscal-management record would be a boon should he decide to run for president in 2016.
Bloomberg News notes this is the eighth downgrade during Christie's tenure and the Washington Post reports that "New Jersey's credit rating has been downgraded more under Chris Christie than any other governor" in the United States.
Neither Christie's office nor the New Jersey Department of Treasury responded to emails from International Business Times requesting comment about the S&P downgrade.
Citing Christie's decision to not make actuarially required pension payments that he had previously agreed to, S&P's downgrade announcement says New Jersey has "demonstrated [a] lack of commitment when it comes to funding its annual contributions." S&P says it expects the pension system's finances "to decline much more significantly" in the coming years.
On Monday, Christie dismissed a reporter's question about New Jersey's finances by saying that credit-ratings experts were "bums back in '08 and '09" and he didn't know whether they were "any better now."
"I don't pay a lot of attention to these guys," he said.
As IBTimes has reported in its ongoing investigative series, the New Jersey pension system's finances have been plagued not only by the state's failure to make required pension payments but also by investment underperformance since Christie began implementing an "alternative" investment strategy. That strategy has transferred billions of dollars to high-fee Wall Street firms -- many of whose employees have made campaign contributions to GOP organizations backing the governor's election campaigns.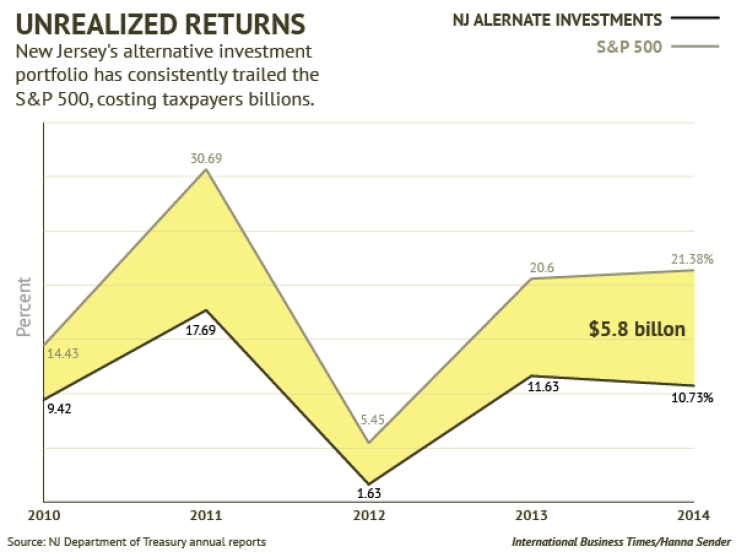 That shift, which tripled the amount of money management fees New Jersey is paying to Wall Street firms, has cost the state's pension system billions in unrealized returns, as the "alternative investments" have lagged key market benchmarks.
S&P says that until New Jersey can boost its revenues and agree to make appropriate pension payments, "its budget will continue to be structurally imbalanced."
© Copyright IBTimes 2023. All rights reserved.