Spotify And Taylor Swift Label Universal Music Group Are Fighting Over The Future Of Free Music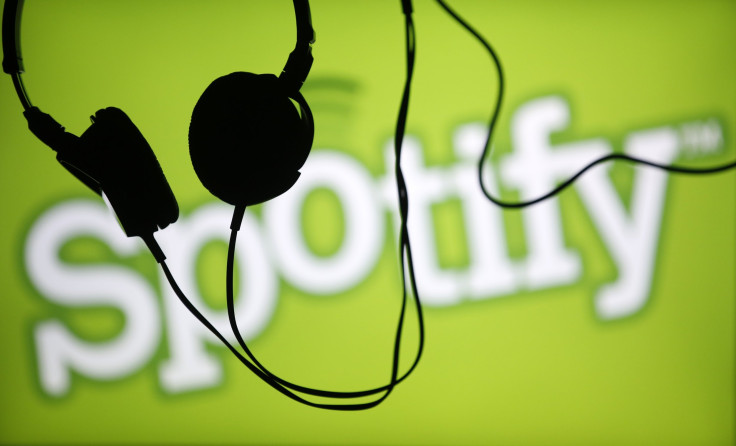 It turns out Taylor Swift's parent label isn't too happy with Spotify, either. Universal Music Group, the world's largest label that's home to Swift, as well as Katy Perry, Rihanna, Sam Smith, Eminem, Drake and Justin Bieber, is reportedly pushing Spotify to drastically modify or get rid of the free, ad-supported tier of its service, saying it is not doing an adequate job of converting users into paying subscribers.
The two companies are busy negotiating a new contract to keep Universal's catalog on the service, part of a string of renewals Spotify will have to negotiate over the next 18 months as its current label deals expire. Those initial deals -- which allowed the Swedish-based Spotify to launch in the U.S. in 2011 -- were somewhat experimental and anchored to large cash payments and equity. This time, however, they're going for the cash, and that means curbing Spotify's free ad-supported tier and maximizing revenue per user.
"Spotify is 100 percent committed to continuing to grow our paid subscriber base," Jonathan Prince, Spotify's global head of communications and public policy, wrote in a statement provided to International Business Times. "We believe the most effect way to achieve this is through our freemium model." Universal Music did not respond to requests for comment.
That model has changed shape many times over the years, beginning as a metered system that let users listen to only 10 hours of music per month. Today, it is an ad-supported experience on the desktop, and an Internet radio-style offering on mobile devices. Some 45 million people use the ad-supported tier of Spotify's service. Another 15 million pay a monthly subscription fee, and according to Prince, 80 percent of those subscribers started out using the company's free, ad-supported tier.
That ratio is striking when compared to other consumer-facing digital products – fewer than 2 percent of Pandora's users are paid subscribers, for example -- and the adoption appears to be picking up; in May 2014, Spotify had 10 million paying subscribers. "This is a segment of the industry that is growing incredibly aggressively," Merlin CEO Charles Caldas said. "'Free bad, paid good' is an incredibly blunt and stupid way to look at this."
But if conversion rates aren't the problem, what is? Here are a few possible explanations for why the world's largest record label is trying to eliminate a service Spotify says served as the gateway drug for 80 percent of its paying subscribers.
Replacing Lost Income
By any measure, the streaming music market is trending in a positive direction. Its revenues finally surpassed those generated by the sales of recordings last year, according to research released by the Recording Industry Association of America. But a stream's fractions of pennies are not the same as a download's cents or a CD sale's dollars. Last year, Universal's digital sales were flat, and while licensing and publishing income both rose last year, those two income streams combined do not match the $1.4 billion in digital sales revenue.
And with Universal's largest download sales customer, Apple, poised to enter the streaming space in a matter of months, the label probably is trying to protect itself against its revenue being further eroded. If Apple's service is even a modest hit, it could wind up cannibalizing the digital revenues, which at this point surpass revenues from sales of CDs and other physical copies of music.
Apple Looming
Apple's entry into the streaming space will not offer a free tier. Google's Play Music service, which has recently taken steps to entice users, does not offer a free tier either. If Universal succeeds in pressuring Spotify to abandon its own ad-supported offering, it will have essentially created a market where three of the largest services in the sector are offered in all-or-nothing form. Universal may see this as an opportunity to condition the next few waves of streaming music consumers to pay up front.
"In terms of the cycle, we're just at the beginning of the early majority," said Rich Bengloff, the president of the American Association of Independent Music, referring to the state of adoption of services like Spotify's.
Hardball Tactics
At the end of the day, these demands come while two parties are seated at a negotiating table. Each will try to do whatever it can to get the most favorable terms, and Universal's demands may simply be a ploy designed to play on Spotify's fears of increased competition.
Deezer, a French service that is active in almost every country besides the U.S., boasts 5 million paying subscribers and is gearing up for a huge U.S. push this year, via cars and a different suite of premium audio devices; Rhapsody, which has fewer than 3 million subscribers, recently partnered with Twitter to make its catalog available on the massive social network; and of course, the new service Apple and Beats are developing could wipe the competition out with a single iOS update.
Making Spotify feel cornered may simply be Universal's way of securing another lavish cash advance or some further equity. "They'll try to drive as hard a bargain as they can," Bengloff said.
© Copyright IBTimes 2022. All rights reserved.
FOLLOW MORE IBT NEWS ON THE BELOW CHANNELS