Spring 2016 College Enrollment Down Nationwide As US Economy Recovers From Recession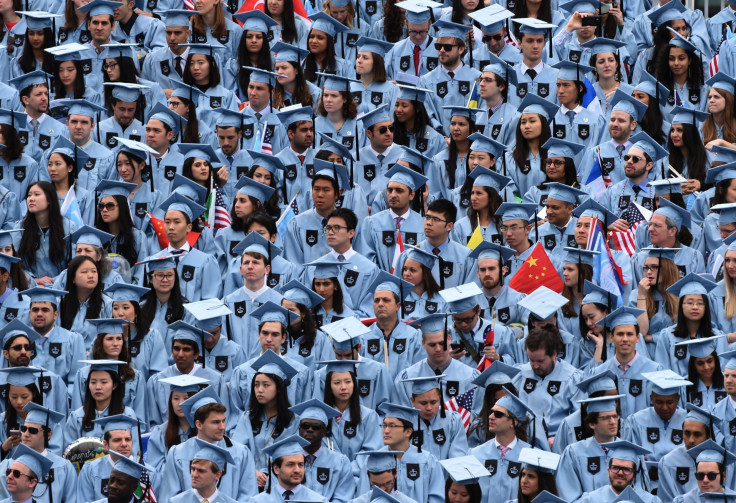 The number of Americans enrolled in college continued to drop this spring, falling 1.3 percent over the past year, according to data released Monday by the National Student Clearinghouse Research Center. During the just-finished spring term, there were 18.34 million students pursuing higher education in the United States — nearly 249,000 fewer than last spring.
For-profit and two-year public colleges were hit the hardest, suffering losses of about 9 percent and 3 percent of their populations, respectively. But the numbers didn't tank across the board: Four-year public and private universities saw enrollment climb by less than 1 percent. Arizona, Arkansas, California, Colorado, New Hampshire, Utah and Vermont all had more students this spring than last spring.
Though the clearinghouse report didn't explore the reasons behind the enrollment downturn, media reports noted the trend was not a new one. The number of college students has been declining since 2010, when about 21 million people were in school, according to data from the National Center for Education Statistics.
Experts have pinpointed the country's recovery from the Great Recession as the reason why. When people couldn't get — or keep — jobs between 2007 and 2009, when unemployment was as high as 10 percent, they went back to school to boost their résumés. As of last month, the national unemployment rate was 5 percent.
"Historically, as the economy improves and Americans get back to work, college enrollment declines," Under Secretary of Education Ted Mitchell told CNN recently.
This could explain why most college sectors saw big losses in their populations of students over age 24. "The postrecession hangover continues to affect enrollments of adult learners," the clearinghouse's executive research director, Doug Shapiro, said in a news release Monday. "However, the desire to attend college remains strong among traditional-aged students, whose enrollments held steady in spite of concerns about student debt and an overall decline in the number of high school graduates in the nation."
Case in point: About 69 percent of the 3 million young people who graduated high school between January and October 2015 had started college by October, according to data from the Bureau of Labor Statistics. This was slightly up from the 68 percent rate from the year before.
High School Graduation Rates Across the U.S from 2006 | StartClass
© Copyright IBTimes 2023. All rights reserved.