'Star Wars: Episode 9' Leak: Palpatine Meeting Scene And What He Wants
After the confirmation that Palpatine (Ian McDiarmid) will be back in "Star Wars: Episode 9," multiple details leaked revealing the first scene of the Sith Emperor and what he really wants in the film.
The following article contains spoilers of "Star Wars: Episode 9."
According to Bespin Bulletin, Kylo Ren (Adam Driver) knows that there is a secret power that was behind Snoke (Andy Serkis) all along, and he will go in search of this power. General Hux (Domhnall Gleeson) and General Pryde (Richard E. Grant) view this as a waste of time and resources of First Order, but the new Supreme Leader will eventually succeed.
Kylo Ren's quest will lead him to a dead planet in the Unknown Regions called Exogol. There, a dying Palpatine is served by cloaked servants, who may be Sith loyalists, in an underground facility.
The dying man introduces himself as Darth Sidious. Kylo Ren doesn't believe him at first, as it was his grandfather who supposedly killed his master all those years ago. However, Palpatine will convince him and tell him about a new secret of the Force.
The concept of Force Dyad will be introduced in "Star Wars: Episode 9." Palpatine will explain that the Force creates two powerful people in the galaxy, who can become even more powerful when they join forces, and their power will be far greater than what they could be individually. Rey (Daisy Ridley) and Kylo Ren are these two people who form the dyad.
What Palpatine wants is for Kylo Ren and Rey to join forces and rule the galaxy as the dark lords of the Dark Side. He will ask Driver's character to bring the young Jedi to him, so that he can unite the dyad.
The Emperor will also reveal that he has a vast armada of Star Destroyers, each equipped with the Star Destroyer weapon that is capable of destroying a planet. General Hux and Pryde have been tasked with finding recruits across the galaxy, which they have done by kidnapping children, to staff these ships.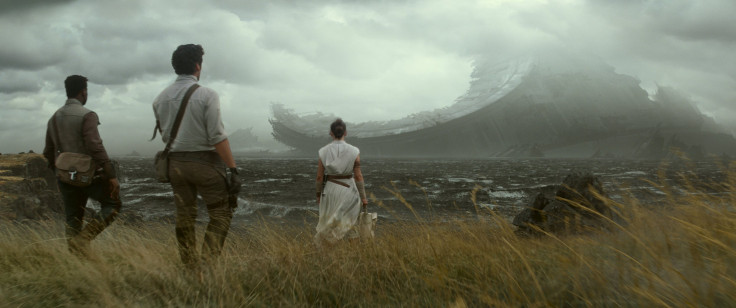 A previous report by Making Star Wars has confirmed that the Force Bond between Kylo Ren and Rey will be reestablished in the film. The concept of the dyad may be an extension of that.
Meanwhile, the leaked details also reveal that Rey is connected to Palpatne somehow. However, another Making Star Wars report revealed that she will reject her background and choose to call herself Rey Skywalker by the end of "Star Wars: Episode 9."
© Copyright IBTimes 2022. All rights reserved.
FOLLOW MORE IBT NEWS ON THE BELOW CHANNELS