'Star Wars: The Force Awakens' International Teaser Shows New Footage Of The Rebuilt Galactic Empire, Lacks Any Returning Characters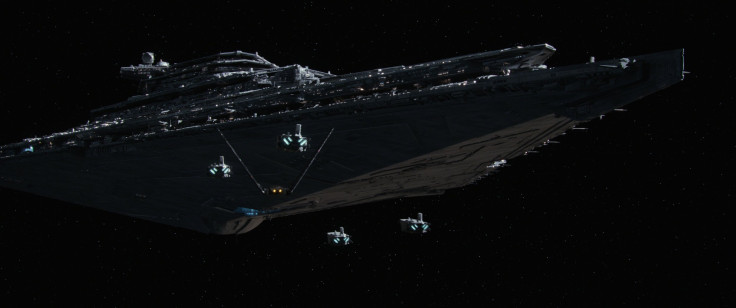 "Star Wars: The Force Awakens" is, without a doubt, one of the most highly anticipated movies of 2015. With fans clamoring for any teasers for the film between now and its December release, a new shot has emerged showing the evil Empire looking stronger than ever.
The small taste of new footage comes courtesy of a TV spot for the film made for audiences in South Korea. According to Polygon, the 30-second teaser is mostly compiled of pre-existing footage from trailers for "Star Wars: The Force Awakens."
However, it does contain one entirely new shot that teases a great deal of plot for the upcoming seventh installment in the popular science-fiction franchise. The teaser, posted below, opens with an impressive establishing shot revealing an entire army of, what is presumably, the rebuilt Galactic Empire. While no "Star Wars" movie would be complete without a cadre of Storm Troopers to blast through, it begs the question as to how the Empire got so big after Luke (Mark Hamill) and the gang broke its ranks in "Return of the Jedi" (1983).
According to The Wrap, director J.J. Abrams' adaptation of the story takes place some 30 years after the events in the final "Star Wars" movie of the original trilogy. That means that the story will have to explain how the new crop of bad guys managed to rebuild the Empire, now called "The First Order," that Darth Vader (James Earl Jones) and The Emperor (Ian McDiarmid) built all those decades ago. In addition to the villains, the TV spot highlights some of the new heroes coming to the world of "Star Wars" in December, including Daisy Ridley and John Boyega.
Unfortunately for those chomping at the bit to get a better look at returning cast members Harrison Ford (Han Solo), Carrier Fisher (Leia) and Hamill (Skywalker), the international trailer left them out entirely. This was likely an attempt to not alienate a country full of people for whom names like "Luke Skywalker" carry much less significance.
As ScreenRant points out, Abrams, Lucasfilm and Disney are likely saving any big new teasers for the film until the 2015 D23 Expo later this month. This will likely be the next and last place that fans can expect to see anything new from "The Force Awakens" until the film finally drops in theaters on Dec. 18.
Check out the trailer, complete with Korean subtitiles, to get a glimpse of The First Order in all of its glory. Comment your thoughts below or tweet them to @TylerMcCarthy.
© Copyright IBTimes 2023. All rights reserved.