'Star Wars: The Force Awakens': Leaked Photo Of Alien Resistance X-Wing Pilot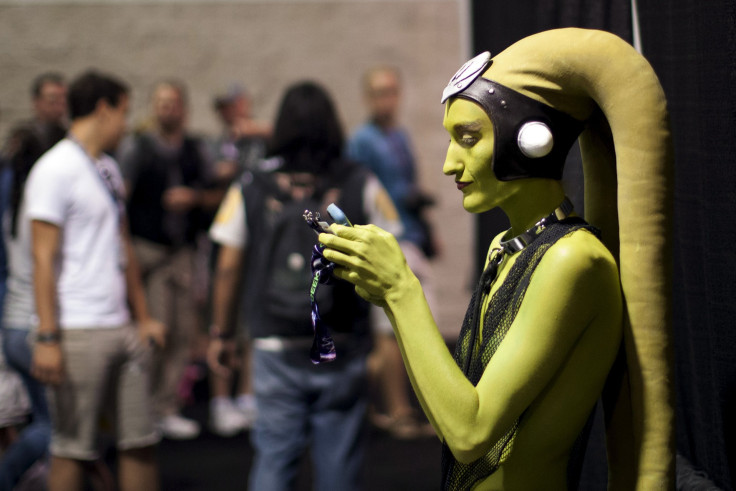 A newly leaked photo of an alien Resistance forces pilot from "Star Wars: The Force Awakens" has surfaced online. The reports describe the pilot as "Bullhead" and details about the possible inspiration behind the character's design and role in the movie are also explained. [Warning: Spoilers ahead]
A behind-the-scenes photograph posted on StarWars7News shows an alien Resistance forces pilot in his pilot suit in the movie. The picture was apparently taken at the Greenham Common production set of the movie that was used to depict scenes of a Resistance base in the movie.
The report notes that a similar alien creature from the planet Jakku was previously showcased by Lucasfilm at San Diego Comic-Con, but the alien in the photograph is said to be a different creature. The report speculates that the name of the character, and the character's look may have been inspired by the bullhead catfish.
The photograph of the alien was released after TheForce website posted a few concept arts from the movie, including the one with the Resistance forces pilot. The concept art in the post include the soccer droid BB-8, a TIE fighter and another alien creature.
The concept art was also posted by MakingStarWars.net. The report speculates that the character may be seen in "Star Wars: The Force Awakens" when Finn [John Boyega] explains to the fighter pilots how to attack the Imperial Starkiller base that belongs to the First Order.
A previous report by MakingStarWars described the final battle in the movie: it features a massive dogfight between X-Wings and TIE fighters. The battle is said to take place both in space as well as in the atmosphere of the snow planet where the Starkiller base is located. The battle will apparently stop after all the fighter planes in the battle are destroyed by "The Array" weapon of the First Order.
Many Resistance pilots as well as Imperial pilots die after the weapon is fired. Poe Dameron [Oscar Isaac] is said to be one of the few pilots who survives the battle. The fate of the alien pilot in the leaked photo is unknown.
"Star Wars: The Force Awakens" is slated to be released on Dec 18, 2015 in the U.S. The movie is directed by J.J. Abrams and some of the cast members of the movie include Harrison Ford as Han Solo, Mark Hamill as Luke Skywalker, Carrie Fisher as Leia and Gwendoline Christie as Captain Phasma.
© Copyright IBTimes 2022. All rights reserved.
FOLLOW MORE IBT NEWS ON THE BELOW CHANNELS