'Star Wars' Mania Awakens The Sales Force: Here Are The Movie's Weirdest Brand Cross-Promotions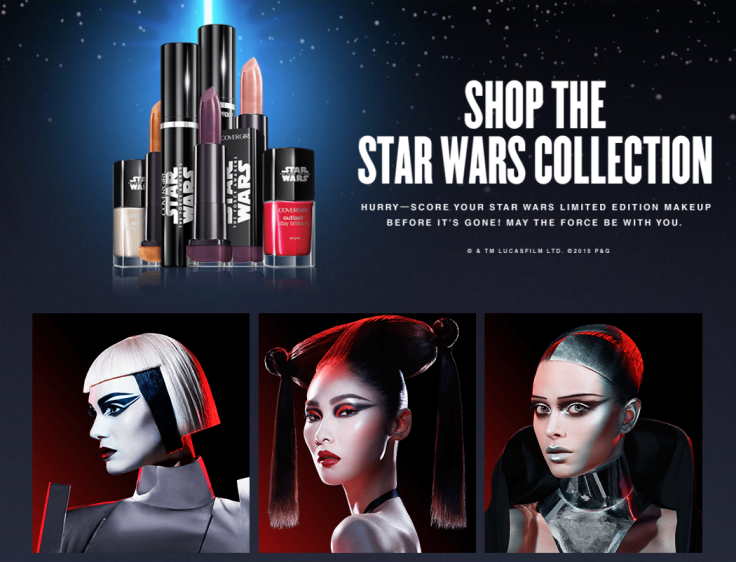 "Star Wars: The Force Awakens" did not invent the concept of cross-promotion, but you could be forgiven for thinking it did, especially given the avalanche of tie-ins that have surfaced over the months-long marketing campaign for the movie. While some may seem like a natural fit for the wildly popular space franchise, others are so downright bizarre, they make you wonder if the marketing heads at the Walt Disney Company are living in a galaxy far, far away.
When we say "bizarre," we're not talking about the usual collectible cereal boxes and Lego sets. "Star Wars" appeals to kids as well as adults, and many of those prosaic tie-ins have been done to death with other movie franchises. Internet-based companies like Spotify and Google glommed on with "Which character are you?" and "Awaken the Force Within" "interactive experiences," but those are more natural outgrowths of current technologies than true head-scratchers.
No, the tie-ins that truly made us go "Huh?" were those like marquee "Force Awakens" sponsor CoverGirl's limited edition line of "Star Wars" makeup.
The two companies involved aren't too eager to disclose terms of these various deals — no one wants to admit who's paying whom how much for what privilege. The upside for Disney is obvious: It not only gets to control the material put out, but it increases the reach of its own campaign for "The Force Awakens," without the company having to spend another dime. For the co-promoters, they can glom onto one of the biggest movie franchises of all time, possibly moving the needle a little on sales. Insiders say that during the December holiday shopping rush, anything that helps a brand slice through the noise of a hundred other products clamoring for consumers' wallets is a good thing.
In honor of the seventh installment of the "Star Wars" film franchise, here are the seven most out-there official cross-promotions and products. (Unlicensed products, like these "Star Wars" condoms, are a separate story.)
CoverGirl
The "Star Wars" prequels were pilloried for a number of reasons, one of which was the rather wooden performance of Natalie Portman, who spent large stretches of the first film made up beyond recognition (admittedly the point). Evoking that aesthetic is certainly an interesting choice for CoverGirl in its promotional materials for its limited-edition collection of "Star Wars" makeup.
Nestlé Coffee-Mate
The ad associated with the "Star Wars"-wrapped creamer carafes is actually pretty adorable, though we're left to wonder why none of the new characters made the cut. If you're going to collect these, however, it's recommended you use up all the liquid inside and rinse the containers.
Facebook
In the old days, you had to bug your friend who had a janky open-source version of Photoshop to create a picture of you with a lightsaber. Now, all you have to do is "Like" the official "Star Wars" page and Facebook will plop a laser sword in your profile picture's hands for up to a week. Facebook gets that sweet, sweet "user engagement," and "Star Wars" gets another bunch of "Likes" and free reach as your little cousin comments, "OMG SO COOL" below your photo.
Kay Jewelers
Legions of women are "Star Wars" fans, and they deserve the option of decking themselves out in Darth Vader helmet charms. That doesn't mean this campaign, with its exhortation to choose the Light or Dark Side via a particular bangle, isn't completely corny.
Verizon
Verizon is another official sponsor of "The Force Awakens," so it was natural that it would be all over the live-stream of the red carpet for the world premiere event in Los Angeles on Monday night. The telecom giant even devoted a whole channel on FiOS to the stream. The weirdness here is that, at some point, the appetite among U.S. consumers for red-carpet coverage became so great as to spill over from events like the Oscars and Emmys into regular movie premieres.
Crocs
Again, kids get a pass here. But you have to be a true die-hard fan to want to wander around in public with the cast of "The Force Awakens" on your feet as an ostensible adult.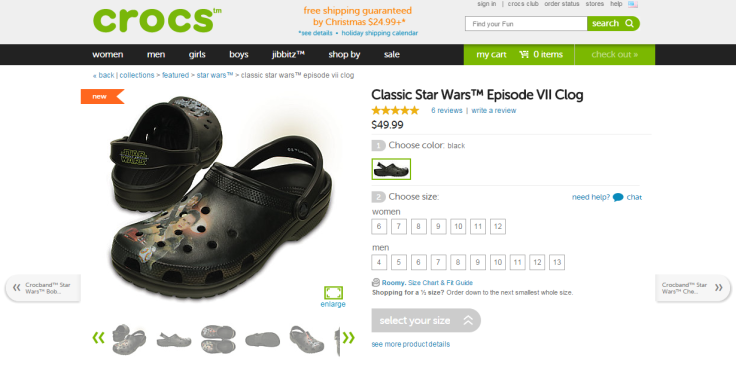 Dodge
Dodge, a subsidiary of Fiat-Chrysler Automobiles, was another one of the official sponsors of "The Force Awakens," and it had a number of tie-ins with Disney/Lucasfilm, starting on Sept. 4, when it partnered with Uber to offer free rides in Stormtrooper-wrapped Chargers in Manhattan. (The Uber promotion was also a triple-cross with Mattel, which gave riders special Stormtrooper-wrapped Hot Wheels cars.) Dodge also ran co-branded spots for its Ram pickup truck line.
"Collaborating with Disney and Lucasfilm on 'Star Wars: The Force Awakens' once again provides the opportunity to deliver the unexpected — relevant, entertaining and immediately noticed end-of-the-year retail commercials true to the individuality of each of our brands and featuring the Star Wars music and sound design known around the world," Olivier François, head of marketing for Fiat Chrysler Automobiles, said in a statement.
That's all well and good, but the ads also serve as a reminder that no vehicle will ever be as cool as the Millennium Falcon.
None of the Dodge "Star Wars" promotions, it should be pointed out, are anywhere near as mortifying as the Dodge Ram ad that "salutes the heroes of 'The Hunger Games'" as a cross-promotional spot for "The Hunger Games: Mockingjay – Part 2." Nothing says "fighting the excesses of corrupt capitalism" like buying a new gas-guzzler.
FOR FREE to continue reading
✔️ Unlock the full content of International Business Times UK for free
offer available for a limited time only
✔️ Easily manage your Newsletters subscriptions and save your favourite articles
✔️ No payment method required
Already have an account?
Log in
© Copyright IBTimes 2023. All rights reserved.