State Department Rejects Visas For Gambia, Afghanistan School Robotics Teams To Attend US Competition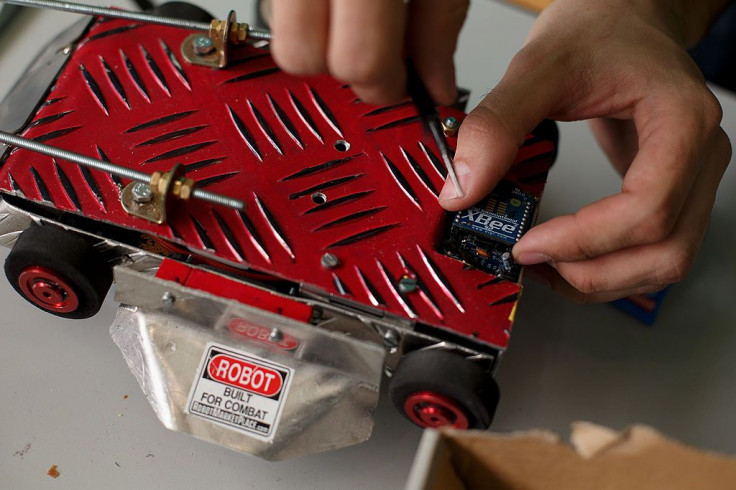 A school robotics team made up of five students from The Gambia has joined Afghanistan's all-girl robotics team in having their one-week visas rejected by the U.S. in order to attend the First Global Challenge robotics competition in Washington D.C.
The five Gambian students on the robotics team will have their robot shipped from the West African country to the First Global Challenge competition in the U.S., which takes place from July 16-18. But the teens will not be able to attend the prestigious international event themselves, Al-Jazeera reports. Despite saying they worked "rigorous shifts" of seven hours during Ramadan to complete the robot, they will instead have to settle for presenting it via Skype.
Director of The Gambia's ministry of higher education, research, science and technology, Moktar Darboe, told Al Jazeera that the students are "very disappointed" they won't be able to attend the competition.
Read: Apple Reportedly Hiring Robotics, Computer Vision Researchers
"They put in so much effort into building this, and now, after all the sacrifice and energy they put in, they have been left disheartened," said Darboe, who is also the team's mentor.
This comes less than a week after six teenage Afghan inventors on an all-female robotics team also had their visas rejected by the U.S. despite repeated – and even dangerous – efforts to obtain the week-long visas. Roya Mahboob, who founded Citadel software company and is Afghanistan's first female tech CEO, told Forbes that the rejection left the team "crying all day" upon hearing word from the U.S. embassy.
"It's a very important message for our people" Mahboob says. "Robotics is very, very new in Afghanistan."
In March, more than 60 African citizens were denied visas for the African Global Economic and Development Summit in California. Organizers told The Guardian they were unsure if any direct connection could be made to President Donald Trump's anti-immigration or travel ban policies. Thus far, Afghanistan and the Gambian team are the only two who had their visa applications rejected.
The First Global robotics competition touts students ages 15-18 from "nearly 160 nations across the world" on its website and describes itself as a yearly international robotics challenge to ignite a passion for Science, Technology, Engineering, and Mathematics (STEM) among the more than two billion youths across the world.
The Gambian team created a ball-sorting machine as its entry into the competition. The robot will be represented in person by The Gambian American Association as the creators themselves watch from Gambia's capital, Banjul. Darboe said the team was rejected shortly after interviews at the US embassy in Banjul in April – and after each student's families pulled together the $170 visa application fee.
"Their parents had to sacrifice a lot to pay this fee," he noted. "We were only told that we did not qualify and that we could try again."
Despite the looming concerns of being denied a visa the team continued working, said Darboe. The students again had their hopes inflated after U.S. Ambassador C Patricia Alsup visited their project site in June.
"She gave us hope not to give up, and she said they would give us all their support to help us go further," 17-year-old Khadijatou Gassam, a science student and team member told Al Jazeera.
Facing similar adversity, the Afghan team had traversed the risky, more than 500-mile trek from Herat to the American embassy in Kabul to interview for their visas, Forbes first reported. Despite a series of recent suicide attacks, including one that killed at least 90 people in early June, the teens undertook the journey twice to secure their 7-day visas.
According to State Department records for the month of April, the U.S. only gave out 32 of the B1/B2 brand of business travel visas needed by the robotics team from Afghanistan, Forbes reports. By comparison, 1,492 were issued for neighboring Pakistan in the same time frame.
The U.S. State Department does not comment on visa denials because such records are confidential.
Despite working on the robot throughout the entire Muslim holy fasting month of Ramadan, Gambian team programmer Fatoumata Ceesay told Al Jazeera that they want to "show the world" they can compete if just given a chance.
"But we're not giving up, despite the challenges we face, we still continue to work hard," she said. "Next year it will be somewhere else, so I think next year we have hope to get there."
© Copyright IBTimes 2023. All rights reserved.