State Of The Union Address 2014 Live Stream: What Will Obama Say In His Speech? [VIDEO]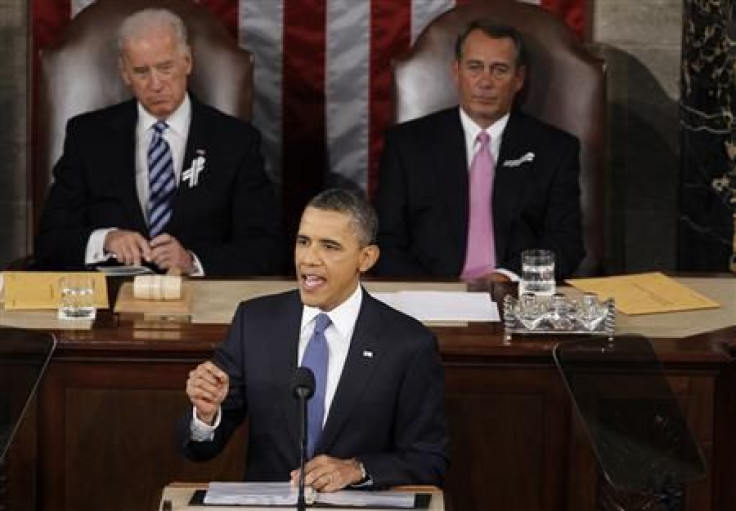 In just a few hours, President Barack Obama will deliver the 2014 State of the Union address. From income inequality and health care to immigration and foreign policy, here are five things to expect from the commander-in-chief as he addresses the American people.
Income Inequality
It's an open secret that Obama's State of the Union speech will address income inequality. It's widely expected that the president will announce his plan to bypass Congress and use an executive order to institute a $10.10 per hour minimum wage for federal contract workers. ABC News believes the announcement will spur Congress to up the federal minimum wage for all other workers, which currently sits at $7.25 per hour.
Immigration
With House Speaker John Boehner, R-Ohio, showing signs that he's ready to embrace immigration reforms by planning to discuss the issue with House Republicans, Obama is expected to address the economic benefits of immigration reform. But the president isn't expected to announce any drastic measures, such as using presidential powers to cut back on deportations and detentions of illegal immigrants, according to Politico.
Health Care
The administration was in damage control when Obamacare rolled out, as lags and glitches led to countless hearings on Capitol Hill that culminating in the axing of Obamacare website contractor CGI. Then there's also the issue of the number of Obamacare registrants falling well below the White House's projections thus far.
But Obama is expected to defend his health care proposal. One sign that backs this up is that Kentucky Gov. Steve Beshear, a Democrat, will be attending the 2014 State of the Union address as a guest of first lady Michelle Obama. Beshear has been a big booster of Obamacare in the Bluegrass State. Look for Beshear to get a shout out from Obama during his speech.
Foreign Policy
While not expected to take up a sizeable allotment of Obama's speech, foreign policy -- particularly on Afghanistan and Iran -- will be mentioned in the State of the Union. American troops are expected to be out of Afghanistan later this year -- 13 years after they were deployed following the Sept. 11 attacks.
Iran's standing in the State of the Union is murkier, according to NPR. Congress is pushing for sanctions against Iran, but Obama is in negotiations with the Middle Eastern country over its nuclear program. A move by Congress would certainly impact the talks.
Terrorism
It's unclear how much time Obama will spend in his speech talking about terrorism. But the country suffered its first terrorist attack on the homeland since Sept. 11 when the Boston Marathon was bombed in April. Among Michelle Obama's guests are Boston bombing victim Jeff Bauman, who lost both legs in the attack, and hero Carlos Arredondo, who helped Bauman get to safety and possibly saved Bauman's life.
The address will be live streamed online via YouTube. You can watch Obama's speech by clicking on the embedded video above.
© Copyright IBTimes 2023. All rights reserved.
FOLLOW MORE IBT NEWS ON THE BELOW CHANNELS