Stephen Colbert Questions John Kasich's Optimism; Ohio Governor Stays In The Race [VIDEO]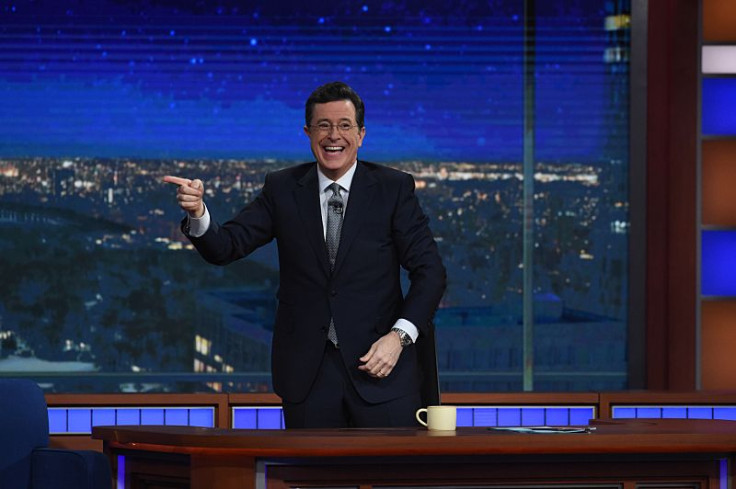 While businessman Donald Trump is near mathematically certain to win the Republican nomination for president, one challenger still stands — Ohio Gov. John Kasich. On CBS' "The Late Show" Tuesday, comedian Stephen Colbert poked fun at Kasich's unwavering optimism.
Kasich remains in the race, hoping to grab enough delegates in the remaining primaries to keep Trump from the needed 1,237 — and then he'd steal the GOP nomination in a contested convention. Texas Sen. Ted Cruz, who had more or less the same plan (and a lot more delegates), dropped out of the Republican race Tuesday after losing the Indiana primary to Trump. On his show Tuesday, Colbert mocked the idea that Kasich still had a path to the nomination.
"The 2016 presidential election has been of twists, turns and excitement — and also John Kasich," Colbert joked, noting that Kasich still trails Florida Sen. Marco Rubio in the delegate count, despite Rubio dropping out more than a month ago. "It's like the old saying that quitters never win, but they still beat John Kasich."
Colbert then introduced an ad released last week by the pro-Kasich super PAC New Day for America, which Colbert described as "the most optimistic ad I have ever seen." The ad, set in an imaginary future, recounts how Kasich won the GOP nomination and thanks the delegates for rejecting what it calls the "establishment" belief that the Ohio governor did not have a shot.
Watch the real pro-Kasich "Convention" ad below:
"As long as they are fantasizing, they should have made Kasich's running mate that pizza that comes in a box made of pizza. You'd get the youth vote and the stoner vote," Colbert chided. "Why stop at the nomination? I can imagine an ad that is even more optimistic."
Colbert then played his own ad, showing Kasich serving as a five-term president, throwing a pass to himself to win the Super Bowl, winning an Oscar and being crowned Pope, among other highly unlikely achievements.
"Now we made some of that up," Colbert admitted.
Watch Colbert's fake John Kasich ad below:
After his win in the Indiana primary, Donald Trump was leading in the delegate count with 1,047 delegates (Kasich has only 153), which almost guarantees he will get the 1,237 delegates needed to secure the nomination before the July convention in Cleveland. But the Kasich campaign says they plan to keep fighting.
© Copyright IBTimes 2023. All rights reserved.