Donald Trump Wins Indiana Republican Primary, Gets Closer To Republican Presidential Nomination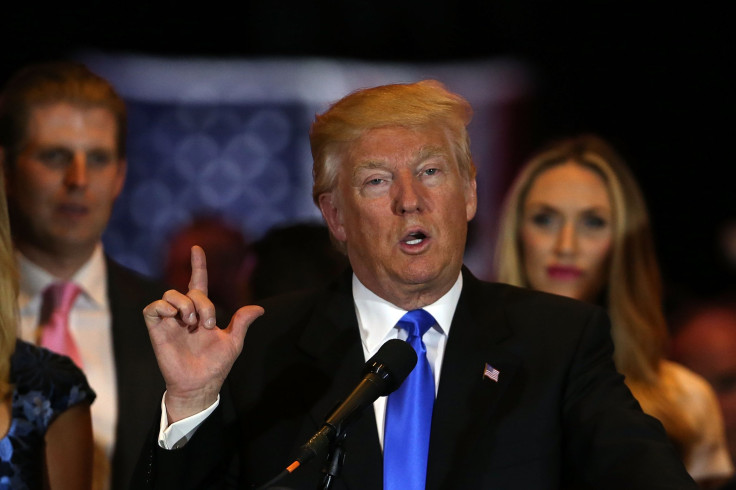 UPDATE: 8:54 p.m. EDT -- After a crushing defeat in Indiana, which he had called his firewall, Sen. Ted Cruz ended his campaign for the Republican nomination.
BREAKING: Ted Cruz is ending his presidential bid, campaign manager says.

— Matt Flegenheimer (@mattfleg) May 03 2016
Original story:
Donald Trump is very likely going to be the Republican Party's nominee for president of the United States. As results from Indiana's primary election came in Tuesday night, Trump was quickly declared the projected winner of the state's 57 delegates, putting him just a few hundred short of the 1,237 he needs to clinch the nomination.
Thank you Indiana! #Trump2016 #MakeAmericaGreatAgain

— Donald J. Trump (@realDonaldTrump) May 03 2016
Indiana represented a last hope for Sen. Ted Cruz and the Stop Trump movement in their quest to keep Trump from winning enough delegates to secure the nomination before the Republican National Convention, July 18-21 in Cleveland. Just last week, Indiana was considered a state where Cruz was supposed to win, but polling changed and a series of wins by Trump gave him momentum going into the Hoosier State.
Going forward, with Trump polling well in many of the remaining primary contests, it will be extremely difficult for Cruz and Ohio Gov. John Kasich to stop Trump. At this point, even if he does fall short of the required delegates, most establishment Republicans seem to have resigned themselves to The Donald's candidacy, and it looks very unlikely that the few who are adamantly anti-Trump will be able to do much to get rid of him.
Cruz has typically done well in states with conservative, evangelical voters, while Trump has been less dominant in states that lean Republican, such as Indiana. As recently as April 30, FiveThirtyEight predicted Cruz would have a 65 percent chance of winning the state. But in recent days, polls showed Cruz losing Indiana to Trump by as much as 15 points, prompting the Texas senator to create a shaky alliance with Kasich and make the unusual move of naming former presidential candidate Carly Fiorina as his running mate.
Delegates Awarded to Republican Candidates | InsideGov
Unfortunately for Cruz, none of his attempts to save his Indiana operation seemed to work. His pact with Kasich to divide Indiana, Oregon and New Mexico in the hopes of pooling their supporters to slow Trump's progress quickly unraveled when the two politicians were not willing to fully throw their support behind one another. Even Cruz's strategy of appealing to Indiana conservatives over the issue of restroom access for transgender individuals failed to turn people away from Trump.
But Cruz wasn't going down without a fight. As he and Trump campaigned in Indiana ahead of Tuesday's primary, they traded perhaps their most nasty insults yet. Trump began primary day by suggesting Cruz's father helped Lee Harvey Oswald, the assassin of President John F. Kennedy, and then Cruz responded by calling the New York billionaire a "pathological liar," "utterly amoral," a "narcissist" and a "serial philanderer."
"He is proud of being a serial philanderer. ... He describes his own battles with venereal diseases as his own personal Vietnam," Cruz told reporters, citing an old Trump appearance on radio's "The Howard Stern Show."
Republican Winners and Upcoming State Primaries and Caucuses | InsideGov
Despite these exchanges and Trump's still high unfavorable numbers among GOP voters, a win in Indiana sets him up to easily move toward the target 1,237 delegates. Of the remaining states, Trump is the heavy favorite in West Virginia and New Jersey, and is likely to do well in several other contests, as well. A win in California, where the most recent poll had Trump up by nearly 20 points, would surely put him over the top. The state has 172 delegates up for grabs in the GOP contest.
If Cruz had won the Indiana primary, it would still be impossible for him to get a majority of the delegates before the summer convention, but he might have been able to make a stronger case for running competitively against Trump.
The next few contests will likely be tough for Cruz and Kasich now that Trump seems so inevitable, and a convention victory appears to be in Trump's near future.
© Copyright IBTimes 2022. All rights reserved.
FOLLOW MORE IBT NEWS ON THE BELOW CHANNELS