Steve Jobs Legacy Continues, Biography Tops Amazon's 2011 Best-Sellers List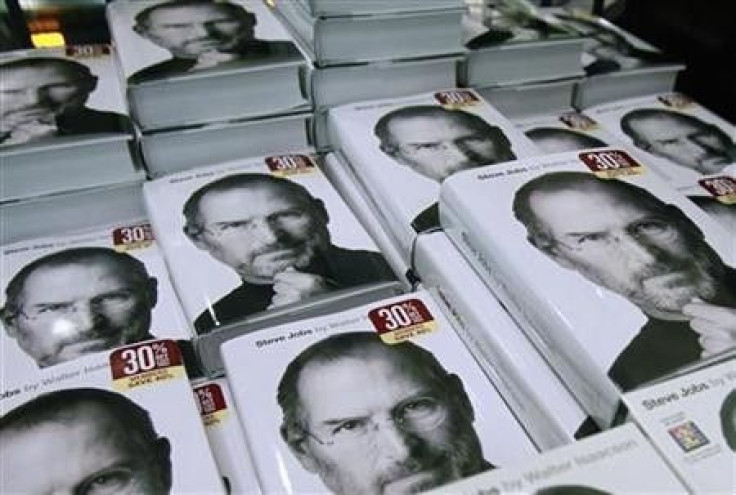 There are only a few persons who are still remembered after their death as they have left their remarkable legacy behind them, and Steve Jobs is one of those personalities who will be remembered for Apple's iPhone and iPad.
No wonder, the man behind the innovation and the success of Apple's products still lives after his death. The biography of Jobs under the name Steve Jobs by Walter Isaacson topped Amazon.com's best-selling books of 2011, implying that the people still love and adore him for what he has done to the world of technology.
We chose 'Steve Jobs' as one of the Top 10 best books of the year, and even though it was published in October, the sales have been phenomenal in both formats (both in print and kindle), said Chris Schluep, senior editor of books, Amazon.com.
The top 10 best-selling books in 2011 by Amazon are Steve Jobs by Walter Isaacson; Bossypants by Tina Fey; A Stolen Life by Jaycee Dugard; The Mill River Recluse by Darcie Chan; In the Garden of the Beasts by Erik Larson; A Dance with Dragons by George R.R. Martin; The Paris Wife by Paula McLain; The Litigators by John Grisham; The Abbey by Chris Culver; Inheritance (The Inheritance Cycle) by Christopher Paolini.
Steve Jobs was written at the request of Jobs by acclaimed biographer Walter Isaacson, who wrote best-selling biographies about Benjamin Franklin and Albert Einstein.
The biography was based on more than forty interviews with Jobs conducted over two years-in addition to interviews with more than one hundred family members, friends, adversaries, competitors, and colleagues. The book was originally planned for release March 6, 2012, but the release date was postponed to Nov. 21, 2011 due to Jobs's deteriorating health, and again following Jobs' death Oct. 5. The book finally released Oct. 24 by Simon & Schuster in the United States.
Bossypants is an autobiographical comedy book written by American comedienne Tina Fey. The book topped The New York Times Best Seller list, and stayed there for five weeks upon its release. Since its release, the book has sold over one million copies in the U.S.
A Stolen Life is a documentary of Jaycee Dugard who went missing for more than 18 years after she was abducted by Philip Garrido. Dugard wrote the memoir as part of her therapy with Rebecca Bailey, who specializes in post-trauma family reunification. Dugard says she wrote the book, which was published in July 2011, in order to assist other survivors of sexual abuse.
The Mill River Recluse is a novel by Darcie Chan, explaining the life of a widow, Mary McAllister, who spends almost sixty years secluded in a white marble mansion overlooking the town of Mill River, Vermont.
In the Garden of Beasts: Love, Terror, and an American Family in Hitler's Berlin is a 2011 non-fiction book by Erik Larson and is based on real characters and events.
The events described in the book take place largely in Berlin from 1933 to 1937, examining the path to World War II and the Holocaust through the experiences of the American Ambassador to Germany, William Dodd and his family, particularly his vivacious daughter, Martha.
A Dance with Dragons is the fifth of seven planned novels in the epic fantasy series A Song of Ice and Fire by American author George R. R. Martin. The U.S. hardcover was officially published July 12 and became publishing giant Random House's biggest book of 2011 and a runaway bestseller.
The Paris Wife captures a remarkable period of time and a love affair between Ernest Hemingway and his wife Hadley.
The Litigators is a 2011 legal thriller novel by John Grisham and is about a two-partner Chicago law firm attempting to strike it rich in a class action lawsuit over a cholesterol reduction drug by a major pharmaceutical drug company.
The Abbey is an investigational thriller where Ash Rashid, a former homicide detective, is set out to find the murderer of his niece.
The Inheritance Cycle is a series of epic fantasy novels by Christopher Paolini released in November 2011. Set in the fictional world of Alagaësia, the novel focus on a teenage boy named Eragon and his dragon Saphira.
© Copyright IBTimes 2023. All rights reserved.
FOLLOW MORE IBT NEWS ON THE BELOW CHANNELS