Steve King's 'Peasant Hunt' Photo With Trump Jr Mocked On Twitter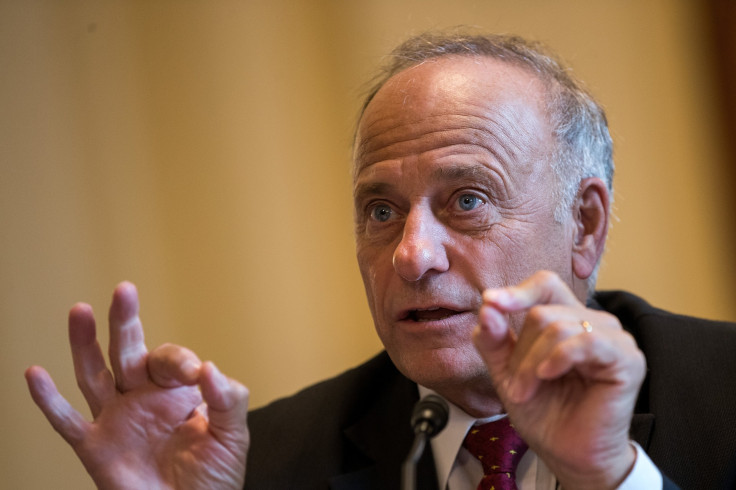 Reaching out to his social media followers, Rep. Steve King (R-Iowa) on Saturday shared his excitement on Twitter about Donald Trump Jr. joining him for a pheasant hunt. But his post went viral for the wrong reason when he misspelled the word "pheasant" as "peasant."
King was quick to delete his original tweet and replace it with the correct version, which read: "Steve King's annual Bud Day Pheasant Hunt. If Donald Trump Jr. defends 2nd Amendment as well as he shoots, we have nothing to worry about."
However, the screenshot of the earlier tweet was already being shared widely on the social media by then, prompting hilarious responses from people.
King's annual Col. Bud Day Pheasant Hunt 2017 kicked off at the Hole 'N the Wall Lodge in Akron, near the South Dakota border on Saturday. The two-day hunt is a fundraiser event for King, where a few dozen hunters and hundred guests assembled. Trump Jr. was a guest of honor at the event where the guests also dined on a menu of pork chop and deep-fried pheasant afterward.
Although Trump Jr. tried to keep safe distance from journalists, according to reports, he did not shy away from sharing his experiences from his life on his father's 2016 campaign trail.
King, however, spoke to the reporters after the morning hunt, singing praises of the marksmanship of President Donald Trump's son. "He is a very, very good shot. It was a beautiful, clear day in Iowa, and the sky was so full of feathers that one could be convinced that the angels were having pillow fights," he said.
Rep. Louie Gohmert (R-Texas), who was part of the hunting group, also echoed King's comments. "Guy's a great shot — he knows what he's doing, he knows ammunition, he knows weapons, and I'm very impressed," Gohmert said about Trump Jr., CNN reported.
When asked by the reporters whether Trump Jr. was concerned at all about a potential indictment in the ongoing Russian investigation conducted by Special Counsel Robert Mueller or Trump's impeachment, the Iowa Congressman waved off the question as ridiculous. "We didn't even bring that up because we're not concerned either," King said. "There's always a chance of anything like the sun coming up, but no, there's no substance."
It was reported Friday that a federal grand jury in Washington approved the first charges in the Mueller's investigation. Since the judge had sealed the details of the order, there was no way of knowing who the special counsel had indicted. The only information available was that the person indicted will be arrested by Monday.
The lack of details led to wide-ranging speculations on the internet with reports drawing up names of every person of interest interviewed by Mueller in the recent past including Trump Jr., whose June 2016 meeting at Trump Tower with a Russian lawyer has been part of Mueller's ongoing probe.
© Copyright IBTimes 2023. All rights reserved.