'Stranger Things' Season 4 Surprise Teaser Confirms Major Fan Theory
Fans of the Netflix series "Stranger Things" got a huge Valentine's Day surprise when the creators of the show released an all-new teaser for Season 4 on Friday. The footage seems to apparently be the answer to the biggest question fans have had since the end of "Stranger Things" Season 3-- Hopper is still alive.
The above footage opens up on a snowy plain and pulls into a distant camp. Russian music begins ominously emanating louder and louder as we get closer. We see Russian soldiers marching with rifles, escorting chained up prisoners, and just keeping their posts on camp.
Then we see train tracks with prisoners lining each side like a chain gang, hammering rail spikes into the ground. One of those prisoners is quickly revealed to be Hopper, shaved completely bald and staring at the guard as he passes by.
What was once just a fan theory has now been confirmed by the Duffer brothers, the creators of the successful Netflix sci-fi series, who gave this statement to Variety regarding the new footage:
We're excited to officially confirm that production on 'Stranger Things 4' is now underway — and even more excited to announce the return of Hopper. Although it's not all good news for our 'American'; he is imprisoned far from home in the snowy wasteland of Kamchatka, where he will face dangers both human…and other. Meanwhile, back in the states, a new horror is beginning to surface, something long buried, something that connects everything…
Twitter did what it does when any "Stranger Things" news is released and bumped it up into the trending topics. Fans were tweeting "Stranger Things," "Hopper," "Hopper is alive," "He's alive," and even "Red Guardian."
Red Guardian is Officer Jim Hopper actor David Harbour's character in the upcoming Marvel Studios film "Black Widow," a character that seems to share some similarities with Hopper. Fans are now jokingly referring to Red Guardian's appearance in a snowy Russian prison in the "Black Widow" trailer as proof that "Stranger Things" is an origin story for the super-soldier anti-hero.
As far as a release date for "Stranger Things" Season 4, the Duffer brothers have yet to reveal it.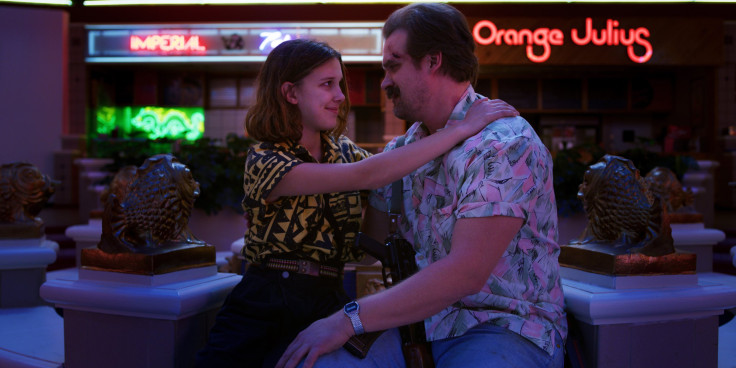 © Copyright IBTimes 2023. All rights reserved.
FOLLOW MORE IBT NEWS ON THE BELOW CHANNELS