'Stranger Things' Star David Harbour Talks About Losing 75 Pounds For Season 4 [Photos]
David Harbour, who portrayed Jim Hopper's character in the popular Netflix series "Stranger Things," opened up about his weight loss journey for the fourth season.
The 47-year-old actor took to Instagram to share his before and after photos, noting that he lost 75 pounds between season three to season four.
"Many of you have asked about Hopper's physical transformation from season 3 to season 4," the actor captioned the photos. He also tagged his fitness trainer, David Higgins, and said that he worked with him for eight months for this transformation.
The actor further revealed that they had to work one year extra to keep this transformation throughout the pandemic. "Stranger Things" season three was dropped in 2019 while the fourth season's first part was released three years later, on May 27.
"All told it was a difficult and exciting ride, changing diet and exercise plans (or lack thereof)," he added. He also announced an Instagram Live tomorrow at 11:00 a.m EST and said that he will be answering questions alongside his trainer regarding his weight loss journey.
The actor went on to explain all three photos featuring him before weight loss, after weight loss, and on the sets.
"Second pic is me and David the week we began, my resistances and fury flaring," he wrote. "And pic three is the shoot day, the black x's are for CGI scarring because of problems with the practical effect. All told I lost over 75lbs. 265-270 in season 3 and all the way down to 190 when we shot."
Harbour shared that he will again gain weight for a role in a movie.
"Recently ballooned up again to play jolly ole st. Nick in a flick," he continued. "I can't wait for you to see this holiday season, so I am struggling to fight back down towards a good weight for wherever hopper ends up in season 5."
In the end, the actor admitted that all this "up and down" of weight isn't good for the body and he will stop doing that soon. However, he shared it's the "fun part of the job" as he gets to live in a different version of his skin for a while.
"Stranger Things" was first dropped in July 2016. The series also stars Jamie Campbell Bower, Winona Ryder, Finn Wolfhard, Millie Bobby Brown and Gaten Matarazzo.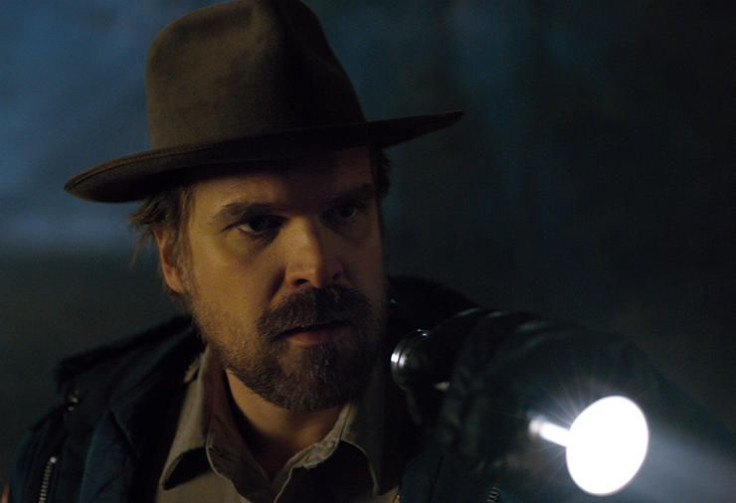 © Copyright IBTimes 2022. All rights reserved.
FOLLOW MORE IBT NEWS ON THE BELOW CHANNELS