Strapless Dress Ban At Readington Middle School Raises Questions: What About Slits, Cutouts And Backless Dresses?
Analysis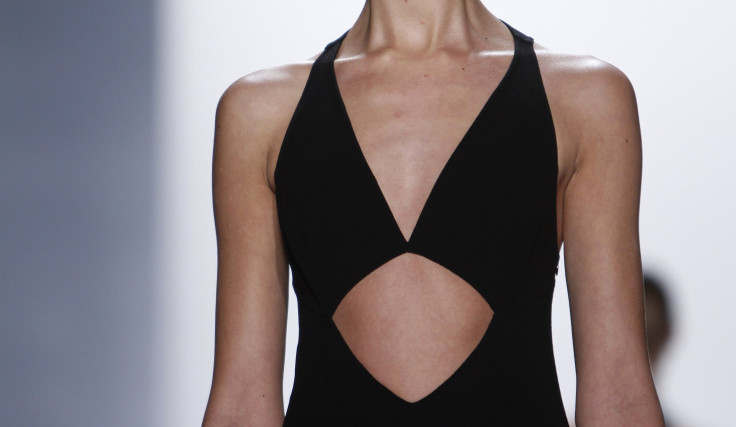 A New Jersey middle school principal is under fire for proposing a ban on strapless dresses for the school dance. But the notion of banning a dress for its lack of straps raises more questions about what's considered questionable attire: What about super-high slits, midriff cutouts and backless styles?
As reported by Reuters, Sharon Moffat, the principal of Readington Middle School in Readington Township, sent out a letter this month ruling out strapless dresses for the junior high dance because the style is "distracting" to boys.
"Young gentlemen are encouraged to wear collared shirts and trousers," Moffat wrote in the letter, ABC reported. "Young ladies should wear a skirt, dress with straps or a dressy pants outfit."
One concerned parent, Charlotte Nijenhuis, questioned Moffat on the new rule that a "dress with straps" would be the only style allowed, sparking fury amongst other parents and students over the new mandate.
"She told me, 'It is because it's distracting to boys and inappropriate,'" Nijenhuis said.
Students and parents petitioned against the new policy on Tuesday, claiming it violates their 14th Amendment right to equal protection, Reuters reported.
The Readington Township School District, though, said in a statement Tuesday that it "has a policy regarding dress code which is being universally applied to the school day and school events. We regret that a small number of families are upset by this and we welcome their input and communication."
MyCentralJersey.com reported the school board will meet May 14, a month before the dance scheduled for June 12, to re-evaluate the new policy. Nijenhuis' daughter, 14-year-old Claudine, however, plans to wear her strapless dress despite the rule.
This rebellion makes me wonder: The policy to ban strapless dresses at Readington Middle School did not address the other increasingly popular trends for formal events and proms over the past few years: cutouts, slits, frontless and backless style dresses. Will other girls find new ways to rebel?
According to SheKnows.com, school administrators are having trouble keeping up with trends for prom which, nowadays, is showing more and more skin. The trend, writer Sherri Kuhn explained, has been heavily influenced by celebrities, who often wear skin-baring looks, especially on shows like "Dancing With the Stars" – where competitors' costumes sometimes resemble the outfits of a Las Vegas showgirl – and "The Real Housewives," where showing skin is a more like a way of life than a style. Not to mention, countless highly respected designers and tastemakers like Michael Kors, Roberto Cavalli, Alexander Wang and Michelle Ochs and Carly Cushnie of Cushnie Et Ochs showed lots of skin on the runway for the Spring 2013 season.
However, the "slutty chic" look for proms and formal events is not a new concept; for the 2010 season, a New York Post article claimed young girls are snatching up "trampy" prom dresses because "prom is going porn."
"The days of dressing like a lady are over -- with teens preferring to parade around at their first big dance looking more like strippers than schoolgirls," the article said.
"For prom this year, girls want short and poofy or long, tight-fitting, with everything cut out -- the sides are gone, the back is gone, the front is basically gone," Nathan Vaknin, manager of Brooklyn-based Fiesta Ladies Fashion, told the Post for the 2010 article.
Vaknin said he believes the trends – backless, high slits, frontless and cutout panels – are "too much" but the store sells "whatever puts money in our pocket," which is seemingly a hefty sum with dresses running upwards of $400.
Ann Shoket, editor-in-chief of Seventeen Magazine, however, disagreed with the Post's claims, saying only a small number of girls wear dresses with exposed midriffs, backs and busts.
"Those dresses are great for the one girl at school who wants that kind of attention," Shoket wrote in a blog for Huffington Post. "But cutaways and disco beading are only a tiny part of the bigger prom trend picture. The truth is that most girls would rather look like Miley Cyrus in her modest peach bustier at the Oscars or like Taylor Swift in floor-length sequins at the Grammys. Girls look to celebrities, the runway, and designers for their inspiration, not to The Girls Next Door."
© Copyright IBTimes 2023. All rights reserved.