Stray Kids Makes South Korean President Proud With 'Thunderous' Performance At Dubai Expo
Stray Kids performed their massive 2021 hit "Thunderous" with so much fire at Dubai Expo on Sunday that they earned some new fans, including South Korean President Moon Jae-In.
The eight-piece act donned modern Hanboks (traditional Korean clothes) and danced to the upbeat track with female back up dancers dressed in colorful Hanboks and male backup dancers dressed in martial arts uniforms.
Prior to this, Twitter was flooded with messages of support for members of the hugely popular fourth generation boyband after a sandstorm hit Saudi Arabia and canceled a concert where Stray Kids was scheduled to perform.
Stray Kids fans, known collectively as Stays, wrote their messages of concern for Bang Chan, Lee Know, Changbin, Hyunjin, Han, Felix, Seungmin, and I.N. Aside from Stray Kids, Chungha was also slated to perform in the said music event.
"Mr sandstorm please leave.... ," a disappointed fan tweeted with a video of the chaos in the concert venue Friday.
Various K-pop fandoms also tweeted images of their idols' lightsticks as a show of support to Stray Kids and Chungha. Hashtags such as #CHUNGHAinRiyadh, #StrayKids_in_Riyadh, #STAY_SKZ_BE-SAFE, and #CHUNGHA_BE_SAFE also trended on Twitter on the same day.
"Try to find people with these light sticks, they can help you #CHUNGHA_BE_SAFE #STAY_BE_SAFE," user @shyikas said.
Stray Kids also received a standing ovation from President Moon and the other VIPs who attended the opening of the Korea Week at the Dubai Expo on Sunday.
Stray Kids members are known for their hard work and dedication to music following their journey as participants of a boyband reality TV search spearheaded by JYP Entertainment in 2017.
Their album "NOEASY" placed No. 1 in the iTunes Top Albums Charts in Australia, Germany and Spain in August, while "Thunderous" ranked No. 1 on iTunes in 44 regions in the same month.
Ahead of his Middle East schedule this week as part of the Dubai Expo, President Moon praised K-pop stars who "charmed the world" with their "soft power."
"(Koreans') yearning for mutual happiness has fostered soft power just as strong as their economic might," he said.
"Under a starlit desert sky this evening, a dazzling show of K-pop stars who charmed the entire world will come alive," President Moon added.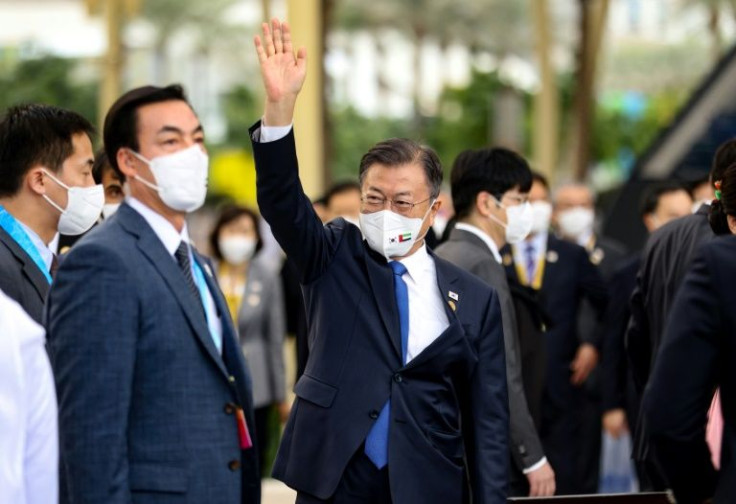 © Copyright IBTimes 2022. All rights reserved.
FOLLOW MORE IBT NEWS ON THE BELOW CHANNELS