'Suits' 100th Episode: What's In Store For Donna, Louis In Milestone Installment?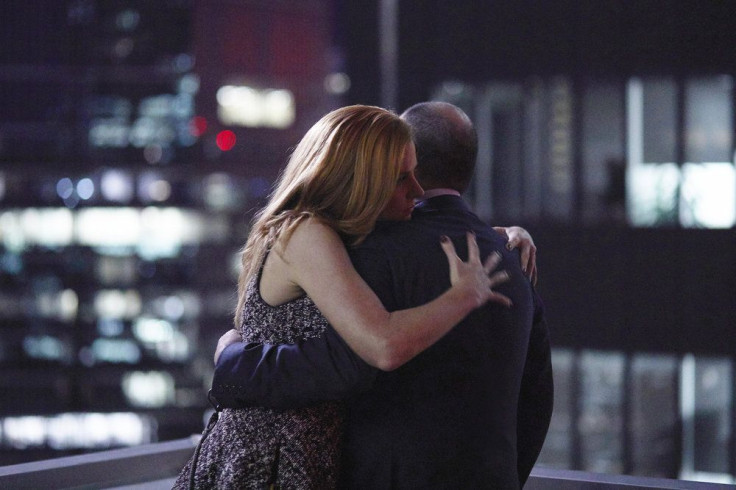 Donna (Sarah Rafferty) and Louis (Rick Hoffman) will be both reunited with people from their past in tonight's 100th episode of "Suits."
In a recent interview with Entertainment Weekly, Patrick J. Adams — who directed the milestone episode of the USA Network series — confirmed that Donna will reconnect with her ex-boyfriend Mark (Jay Harrington), while Louis will bump into someone he doesn't think he'll ever see again.
"Mark Meadows is back in this episode, and [he and Donna] have some great stuff together," said Adams who also plays Mike on show. "It's a really nice episode for both Donna and Louis in that they both have to face down a real crushing sense of loneliness. Harvey's (Gabriel Macht) had a relationship that's really started to take off and get a little deeper this season, and I think for Donna, whatever people think her feelings for Harvey might be, it's still difficult to see other people falling in love and to not have that in your own life. So Mark coming back into her memory and into her life in that last episode, I think, triggers some stuff, which she needs to deal with in this episode."
"The same goes for Louis," continued Adams. "He's forced to sort of deal with someone he thought was long out of his life but has returned to create some conflict for him."
While the identity of the returning character connected to Louis is being kept under wraps, the synopsis for the landmark episode (Season 7, episode 8) suggests that it's actually his ex-fiancée, Sheila, as the character's portrayer, Rachael Harris, is listed as one of the guest stars of the hour.
But instead of focusing on who Louis bumps into in the episode, series creator Aaron Korsh told TVLine it's more important to note that the hour is really about putting the financial law expert in a situation he's never been in before. "He's going to have a difficult decision to make as a result," Korsh teased. "It's going to have what we like to think is a cool parallel [to what's] going on with Donna."
The similarities between what Donna and Louis are going through in the episode apparently lead the two to find comfort in each other. "Louis and [Donna] have a great scene on the roof, [and] it was shot so beautifully," Rafferty told TV Guide. "That was another moment of being really excited for Patrick because he had this gorgeous crane shot set up, and there we were on the roof together. That was a really beautiful scene."
"Suits" Season 7, episode 8, titled "100," airs on Wednesday, Aug. 30 at 9 p.m. EDT on USA Network.
© Copyright IBTimes 2023. All rights reserved.