'Suits' Season 6 Spoilers: What Does Episode 10's Handholding Between Harvey And Donna Mean?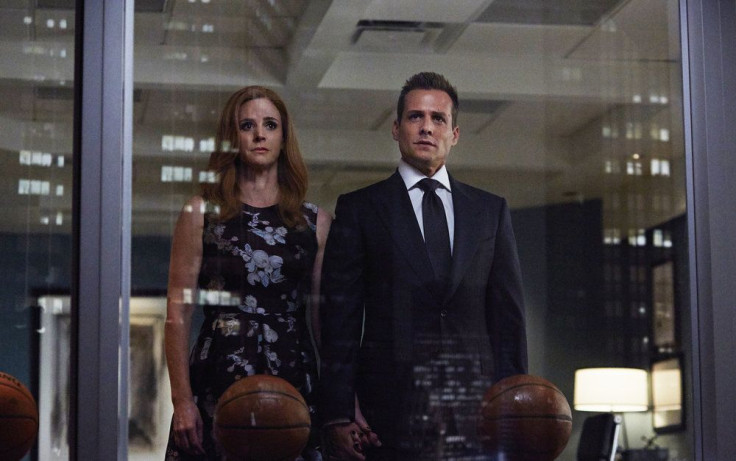 At the end of "Suits" Season 6, episode 10, titled "P.S.L.," viewers saw Harvey (Gabriel Macht) and Donna (Sarah Rafferty) held hands inside his office shortly after Jessica (Gina Torres) revealed that she's leaving the firm. But what does that gesture mean? Is it a hint that Harvey and Donna's romance is back on the table? Or, is it simply an act of friendship and solidarity?
Series creator Aaron Korsh told The Hollywood Reporter that the true meaning behind that scene "remains to be seen," as he doesn't want to reveal too much about where Harvey and Donna's relationship is heading.
"I try to be super cagey with the 'Darvey' (Donna and Harvey) stuff because any answer I give I just get in trouble," he told the website. "And I prefer to let what we do speak for itself."
Whether or not that gesture was romantic in nature, Korsh told Deadline that the scene in question "was definitely a development in their intimacy." "It's going to have an effect to some degree," he assured fans. "[However,] it remains to be seen on our side what that effect is, but I think it's a small step forward in the evolution of their relationship. I would say that."
In an interview with TVLine last month, Macht admitted that he has no idea whether Harvey and Donna would end up together again, as Harvey is well aware that Donna would leave her job as his secretary if that happens.
"I know they had that one time, and I know if they did get back together, she wouldn't work for him," the 44-year-old actor told the news outlet. "I don't know if they did get together, if he could do it without her. Maybe if he changed his line of business, became a judge…? Maybe then he could end up with her. I really don't know."
Rafferty, on the other hand, thinks that making Harvey and Donna a couple could be a great idea, but she personally feels that it would never happen on the legal drama.
"I'll never say never," Rafferty told Digital Spy in January of the possibility of seeing the pair officially become boyfriend and girlfriend on the hit USA series. "It could be amazing, and we have great writers who could create that scenario for us. But it's not something that I see happening. Though I could be wrong. I've been wrong before!"
What do you think of Harvey and Donna's final scene in the summer finale? Share your thoughts in the comments below!
"Suits" Season 6, episode 11 is expected to air sometime in the first quarter of 2017.
© Copyright IBTimes 2023. All rights reserved.
FOLLOW MORE IBT NEWS ON THE BELOW CHANNELS