'Suits' Star Patrick J. Adams Teases Mike And Rachel's Season 7 Struggle
"Suits" fans are excited to see fan favorite couple Mike and Rachel return when Season 7 premieres in July. While the duo are still together and very much in love, star Patrick J. Adams told International Business Times that the lawyers, played by himself and Meghan Markle, still have some struggles ahead.
"What you really find is two young professionals who are at the peak of their careers," Adams told reporters at ATX television Festival in Austin, Texas, Saturday. "Finally, Mike gets to be a lawyer, gets to do what he's always wanted to do, [and] she's just graduated from law school, and they're super in love and together and there's no doubt that they're the person for each other. But that thing when you're in the middle of your career and you're working that hard, it's hard to take a step back from that and also invest in your personal life, your family and what are you going to build."
The lawyers will have to figure out how to prioritize their romance while still maintaining their careers on the USA Network drama. "They both have a lot of aspirations, so it's cool to play a young couple in love but not have it be everything that we do," he explained to IBT. "It's not, 'Let's go through the whole process and plan a wedding and everything's perfect.' These people don't really have time for that. So it's cool to have a love story where it's just inherent that they're in love, and really, you get to see them struggle with, 'How do we make time for each other when we don't even have time for ourselves?'"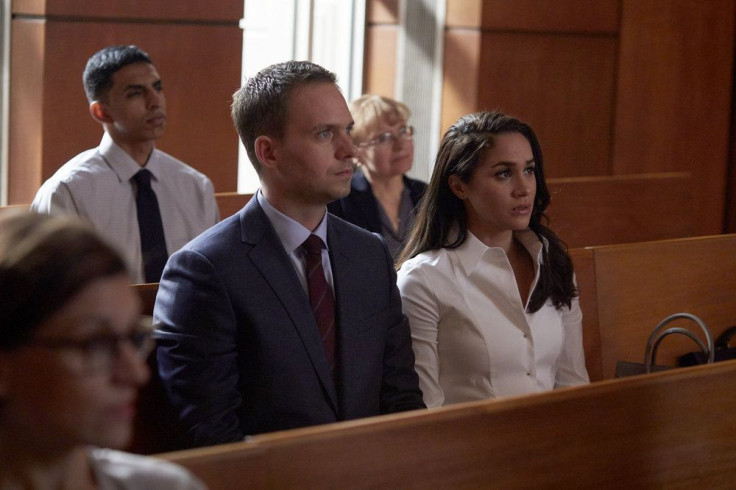 READ: Dulé Hill Is Excited To Join "Suits" Season 7
Adams admitted that he and wife Troian Bellisario ("Pretty Little Liars") can relate to Mike and Rachel's struggles. He and the actress got married late last year in a rustic California ceremony.
"Troian and I have been together eight years," Adams said. "We got married almost on our eight-year anniversary, and our entire relationship, she's been shooting 'Pretty Little Liars' and I've been shooting 'Suits' 3,000 miles away from each other. So learning to make both things a priority and how to balance that, it's huge [and] complicated."
Balancing careers and romance isn't just an obstacle for Hollywood stars. Adams was sure to note that it's a storyline most viewers will be able to identify with too. "Everyone relates to it in one way or another. Everyone who wants to have a career and working as hard as we do to do what we love, you have to make sacrifices. You have to learn to communicate. You have to learn when to say yes and when to say no. Yeah, I relate a lot to it."
READ: EP Aaron Korsh Teases "Suits" Season 7
Of course, "Suits" fans have plenty to look forward to aside from Mike and Rachel's storyline. Mike and Harvey (Gabriel Macht) will be working together at the firm, where they'll still be adjusting to life without Jessica (Gina Torres). The legal drama will also air the 100th episode this year, and Adams will step behind the camera to direct for the fourth time.
"I just asked to do the eighth episode," Adams explained at ATX. "It turned out that that was the 100th. So they said, 'Just so you know this is the 100th episode you're asking to direct.' And for a second I went, 'Oh, I'm sure you want that to be somebody else,' and kind of started to back away from it. And then I realized why not lean in and ask for it."
"Suits" Season 7 premieres July 12 at 9 p.m. EDT on USA Network.
© Copyright IBTimes 2023. All rights reserved.
FOLLOW MORE IBT NEWS ON THE BELOW CHANNELS