Super Bowl 2013: 5 Worst Halftime Show Performances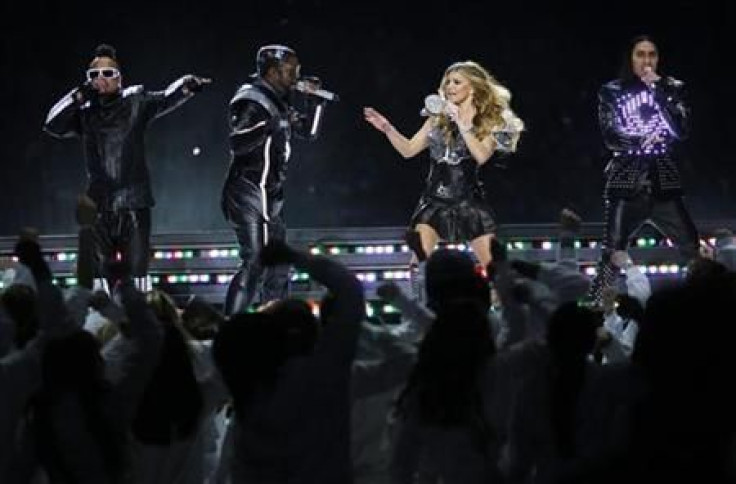 The Super Bowl halftime show can be a memorable showcase of a musician's talent, or it can damage his or her career (we're looking at you, Janet Jackson).
While Beyoncé is expected to nail her set on Sunday, the event has produced plenty of train-wreck performances that most want to erase from their memories.
Here's a look back at five of the worst halftime shows of all time.
5. Super Bowl XLV (2011): The Black Eyed Peas, Slash And Usher
Watching a "Tron"-themed performance play out for 12 minutes proved to me more than most viewers could bear, making for one of the biggest fails in halftime show history.
It didn't matter that the hundreds of performers dancing around the Black Eyed Peas did a decent job, because the band couldn't hold the stage themselves.
Poorly executed choreography, off-key singing and Fergie's painful rendition of "Sweet Child of Mine" were just some of the reasons why the show was a major blunder.
4. Super Bowl XXXIV (2000): Christina Aguilera, Enrique Iglesias, Phil Collins And Toni Braxton
Christina Aguilera and Enrique Iglesias opened the halftime show in 2000 by performing a duet of the little-known song "Celebrate the Music" surrounded my stilt walkers executing the "Millennium Walk." It didn't get much better from there.
Puzzlingly, Edward James Olmos provided narration in between songs.
The segment was produced by Disney, which is why it looked like an ice show rather than a halftime performance.
3. Super Bowl XXVI (1992): Gloria Estefan, Dorothy Hammil And Brian Boitano
This 1992 performance proved that kick lines and football just don't mix. The over-the-top set had ballroom dancers, acrobats and giant snowmen. The whole thing looked like something out of a theme park ride. Not to mention Christmas songs like "Winter Wonderland" were a poor choice.
2. Super Bowl XXV (1991): New Kids On The Block
The 1991 halftime show was meant to be a "thank you" to the troops serving during the Gulf War. But the end result was a horrendous mash-up of New Kids On the Block hits and Disney's "It's a Small World."
To top it off, a breaking Gulf War story was broadcast during halftime, causing the performance to air at the end of the game rather than live.
1. Super Bowl X (1976): Up With The People
In a performance titled "A Tribute to America's Bicentennial: 200 Years and Just a Baby," Up with the People were accompanied by the Good Time Neighborhood Band -- and it was a disaster. Why anyone thought it would be a good idea to feature pastel-wearing performers doing the charleston remains a mystery.
Thankfully, the band, which was made up of music students from around the world, has now faded from public consciousness.
© Copyright IBTimes 2022. All rights reserved.
FOLLOW MORE IBT NEWS ON THE BELOW CHANNELS