Supergirl Faces Off Against Overgirl In New Arrowverse Crossover Promo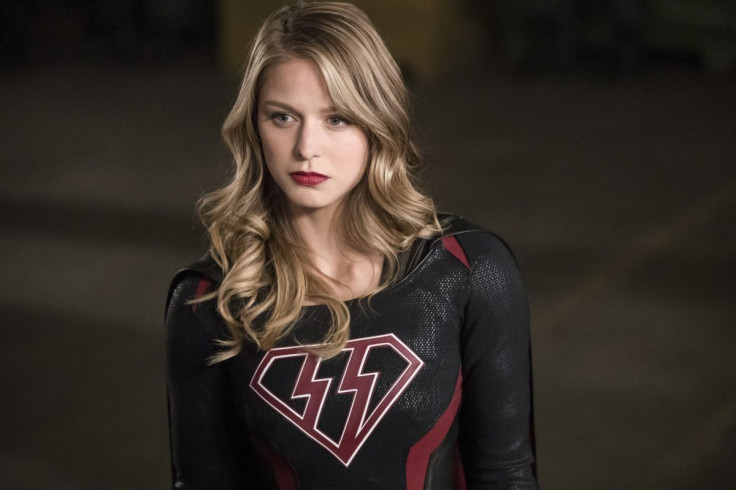 Overgirl crashes Barry and Iris' wedding in a new promo for the upcoming four-way crossover between "Arrow," "The Flash," "Supergirl," and "Legends of Tomorrow."
In the 30-second clip, Overgirl (Melissa Benoist) shows up inside the church where Barry and Iris are supposed to tie the knot. Later in the video, Overgirl faces off against Supergirl (also played by Benoist) in the sky as Joe watches from the ground.
Overgirl is from Earth-X, an alternate universe where the Nazis, not the Allies, won World War II. On this Earth, most Arrowverse superheroes are twisted Nazi version of themselves.
In the comics, Overgirl has similar powers with her cousin, Overman, the Nazi version of Superman. Overman crash landed on Earth-X after the destruction of Krypton, but instead of being adopted and brought up by homegrown, all-American Kansas farmers, he was raised by Nazis to become a soldier in their cause. These Nazis then used Overman's genetic materials to create Overgirl. While Overman and Overgirl are technically not related by blood, this prompted Overman to view Overgirl as a cousin of sorts.
Aside from Overgirl, the promo also features the evil Earth-X version of Green Arrow (Stephen Amell), who seems to be the leader of the Earth-X villains that arrive on Earth-1.
Elsewhere in the teaser, Killer Frost (Danielle Panabaker) resurfaces; Citizen Cold (Wentworth Miller) fights alongside the Legends; and The Flash (Gustin) takes down multiple Earth-X Nazi soldiers at once.
While the crossover is expected to be action-packed, "Arrow" executive producer told The Hollywood Reporter that "the biggest surprise will be the emotional component of the crossover." "I don't think anyone is going to see that coming," Mericle said. "It's very much a dark love story. It's the underpinnings of that that will make the Earth-X element a real contrast to that."
Surprisingly, it's the "Legends of Tomorrow" characters that will be bringing the waterworks during the crossover. "You'll be most surprised that 'Legends' is capable of making our audience cry," "Legends of Tomorrow" executive producer Phil Klemmer told The Hollywood Reporter. "I thought last season really leaned into the comedy, and that Season 3 we tripled down on that. There's some ludicrous moments. Things get bananas, and yet in this crossover, we have this thing that happens that will honestly move you to tears."
The crossover, titled "Crisis on Earth-X," will air across two nights. It begins with "Supergirl" and "Arrow" on Monday, Nov. 27 at 8 p.m. EST, and ends with "The Flash" and "Legends of Tomorrow" on Tuesday, Nov. 28 at 8 p.m. on The CW.
© Copyright IBTimes 2023. All rights reserved.