'Supernatural' Season 10 Spoilers: Episode 7 Sneak Peek Video Released; Watch Sam Give Dean Dating Advice In 'Girls, Girls, Girls'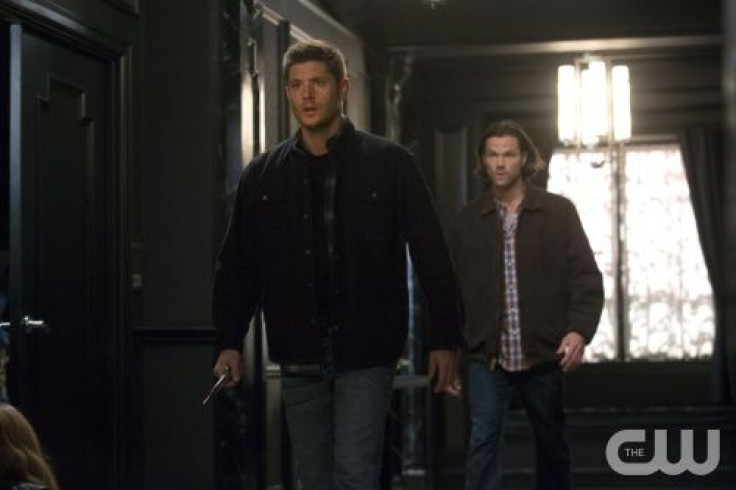 It's all about girls, girls, girls on Season 10, episode 7 of "Supernatural." According to the synopsis for the Tuesday night installment of the CW series, Dean (Jensen Ackles) and Sam (Jared Padalecki) will come face to face with all types of women -- from a coven of witches to those just looking for love.
In a sneak peek video for "Girls, Girls, Girls," Sam calls out his big brother for joining a dating website.
"Dude, you are blowing up. Who is that?" Sam questions Dean about why his phone was ringing off the hook. But his big bro attempts to dodge the comment, claiming it was just "monster stuff." Curiosity gets the best of Sam, so he steals Dean's phone only to discover that his brother has joined an online dating community.
"Nice screen name, Dean. Impala67," Sam says in his most sultry, sarcastic voice. While swiping through the dating app, Sam notices his brother has been paying special attention to a woman named Shaylene. "There's like a million messages here," Sam says.
"Yeah, check out her pic," Dean demands proudly.
Sam agrees that while Dean's potential suitor may be hot, it could be a catfishing scam.
"It's too good to be true. You realize there's no guarantee that 'Shaylene' is even 'Shaylene.' And for all you know it could be some Canadian trucker who's named Bruce," Sam tries to warn his brother. But Sam's concerns dissolve when Shaylene herself walks through the door.
"Does that look like a Bruce to you?" Dean quips.
"We detoured eight hours so you could get laid?" Sam says, piecing together the real reason why Dean drove so far out of the way.
Shaylene won't be the only lady introduced into the boys' lives during episode 7. According to the synopsis, the Winchester siblings will meet Rowena (Ruth Connell), the fearless leader of a group of witches who will stop at nothing to reclaim her power base.
Entertainment Weekly reported that Dean and Sam will meet Rowena when she interrupts the boys while capturing a demon. "Before they have a chance to shut him down, Rowena steps in and takes things into her own hands."
Will Sam and Dean be able to stop Rowena before she causes more damage? Watch "Supernatural" Tuesday, Nov. 25, at 9 p.m. EST to find out.
© Copyright IBTimes 2023. All rights reserved.