Supreme Court Controversy Update: Sandra Day O'Connor Says Obama Should Name Scalia's Replacement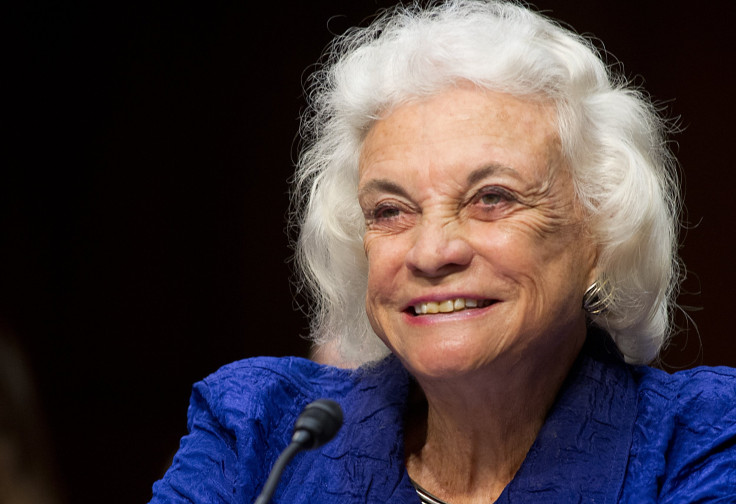 Former Supreme Court Justice Sandra Day O'Connor has weighed in on the debate surrounding Justice Antonin Scalia's replacement to the high court, saying she believes President Barack Obama should name Scalia's successor.
O'Connor, the first woman to serve on the Supreme Court, was nominated by former President Ronald Reagan, who also nominated Scalia. She often acted as the court's swing vote during her tenure and retired from the post in 2006.
Since Scalia died over the weekend, Republicans have said they plan to block Obama's nominee, and many have added that they don't think the president should choose a nominee at all.
"I don't agree [with Republicans]," O'Connor said in an interview with KSAZ in Phoenix. "We need somebody in there to do the job and just get on with it."
She added that an opening on the Supreme Court in an election year is an unusual occurrence, calling it "unfortunate." It "creates too much talk around the thing that isn't necessary," she said.
Republicans in the Senate and on the 2016 campaign trail have said they want the next president to nominate Scalia's replacement. Some have argued that "lame duck" presidents do not traditionally nominate Supreme Court justices, but Obama has nearly 11 months left to his term in the White House.
"The American people should have a voice in the selection of their next Supreme Court Justice. Therefore, this vacancy should not be filled until we have a new president," Senate Majority Leader Mitch McConnell said shortly after the news of Scalia's death. Scalia, a conservative member of the court, was found dead Saturday at age 79.
"Well, you just have to pick the best person you can under the circumstances, as the appointing authority must do. And it's an important position and one we care about as a nation, as a people," O'Connor said in the interview. "And I wish the president well as he makes choices and goes down that line — it's hard."
Both Florida Sen. Marco Rubio and Texas Sen. Ted Cruz, who are running for the Republican nomination for president, said Wednesday night during a CNN town hall in South Carolina that they would not nominate replacements to the Supreme Court if they were in Obama's position. Each stressed that the decision should be made by the next administration.
"The Supreme Court can function with eight justices," Rubio said. "This is going to be an issue in the campaign."
Cruz emphasized the partisan nature of the discussion around the nominee, saying the current fight wouldn't "be fair to the nominee."
"I think that hearing would end up very politicized," the Texas senator said. "I think this is a matter of policy — that during a lame-duck period, we should not be confirming a Supreme Court nomination."
© Copyright IBTimes 2022. All rights reserved.
FOLLOW MORE IBT NEWS ON THE BELOW CHANNELS