Surfside Condo Collapse: More Bodies Found As Elsa Complicates Search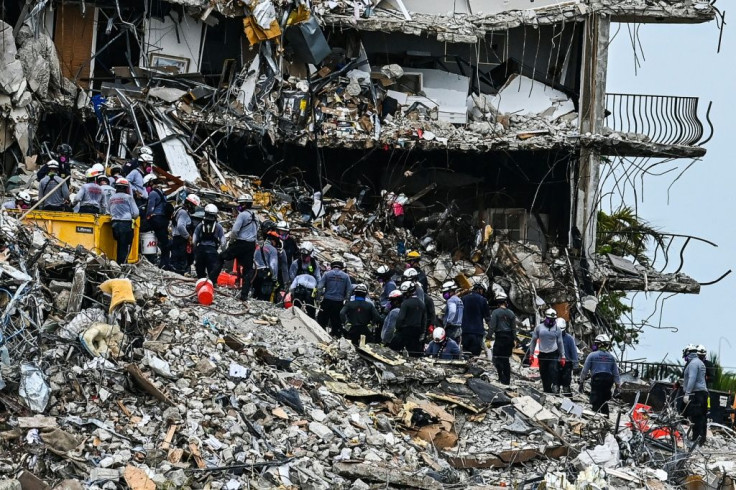 KEY POINTS
Lightning and strong winds have made search operations challenging as Tropical Storm Elsa regained hurricane strength
Officials at the building collapse site are continuing to monitor weather conditions
Other residential structures in Miami-Dade County may be at risk due to rising sea levels
Four more bodies were recovered by search rescue teams in the rubble of the collapsed Champlain Towers South condo building in Surfside, Florida, but operations have been complicated by the bands of rain brought by Tropical Storm Elsa.
The death toll in the Surfside condo building collapse has now reached 36, and Miami-Dade Mayor Daniella Levine Cava said there 109 "reports of people who are potentially unaccounted for," CNN reported.
Lightning and strong winds made search operations challenging as Tropical Storm Elsa regained hurricane strength Tuesday and is expected to make landfall early Wednesday across the west coast of Florida.
Amid the search, officials at the site of the June 24 building collapse "sounded increasingly somber" about the chances for finding any survivor, AP reported. They said that so far they have detected no new signs of life in the rubble.
Miami-Dade Fire Rescue spokesperson Erika Benitez said that officials are continuing to monitor weather conditions and the rescue teams will be called off the rubble pile if Elsa's wind gusts reach 45 mph, to ensure the safety of working teams.
Besides fears that soaking of the rubble may endanger rescuers, talk has also been rife regarding the possibility that other residential structures in Miami-Dade County may be at risk due to rising sea levels.
The pressures of searching for survivors have been on the rise with Elsa's arrival in Florida as hopes for signs of life decrease each day.
According to Mayor Cava's office, the magnitude of the collapsed building rubble was significant and about 5 million pounds of debris was removed from the site.
The mayor was earlier cited as saying by the Miami Herald that "only around 70 that we can confirm were in the building at the time of the collapse." The identities of some of the missing victims are yet to be verified.
Rescue operations resumed after the remaining portion of the collapsed condo was demolished late Sunday over fears that strong winds from Elsa may endanger people and surrounding structures.
However, workers had to stop searching for about two hours due to the rubble being soaked up in rain.
Meanwhile, questions have since emerged regarding a possible construction problem that could have contributed to the collapse of the Champlain Towers South building on June 24.
Internal Champlain documents revealed that presentations were provided to residents in 2020 regarding "very poor drainage (design flaw)" on the driveway atop the building's garage.
A report dated October 2020 stated that the garage was "exposed" to water "for 40 years." The said presentation added that due to water intrusion, the concrete was damaged. Another document dated two months later stated that drainage problems "must be corrected."
It was not immediately confirmed who provided the presentations.
However, a report by engineer Frank Morabito in 2020 warned that the drainage issue was "causing structural damage to the concrete slab" below the entrance drive and pool deck.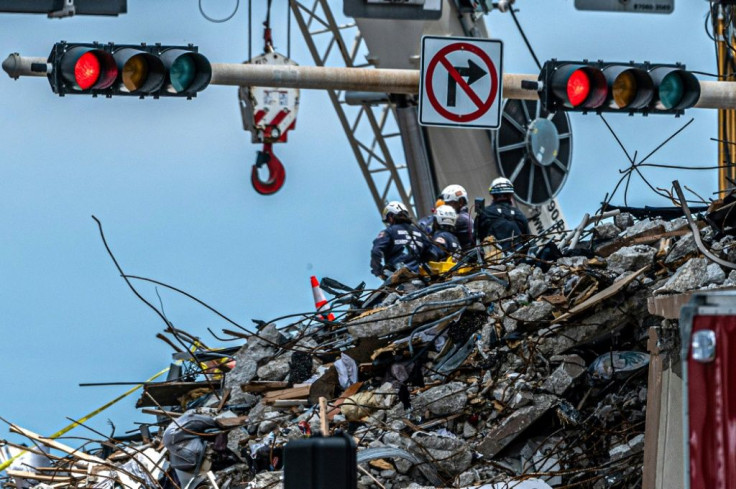 © Copyright IBTimes 2023. All rights reserved.