'Taken' Sneak Peek: Bryan Mills Comes Face To Face With 'Football' Thief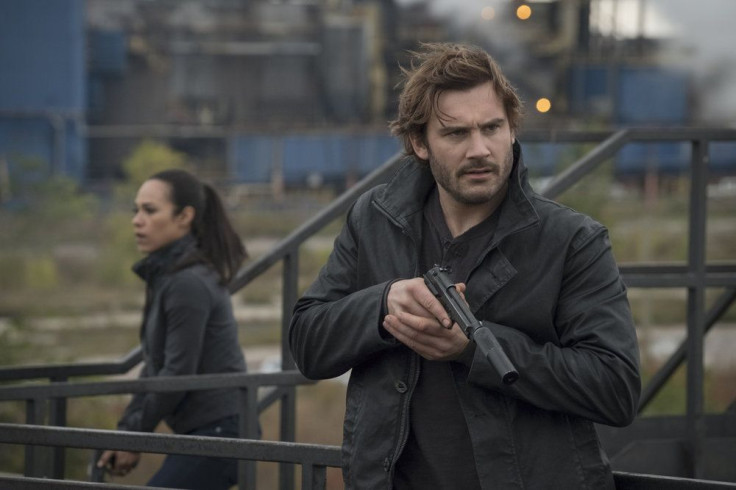 Bryan Mills and his team must recover the President's stolen emergency football in tonight's episode of "Taken."
In a sneak peek from Season 2, episode 4 of the NBC action thriller, Bryan (Clive Standen) and Santana (Jessica Camacho) go to an informal tent city to meet James (Aaron Roman Weiner), the man believed to have stolen the President's emergency football.
For the uninitiated, the President's emergency football, also known as the button, the black box or the President's emergency satchel, is a briefcase used by the head of state to authorize a nuclear attack while away from fixed command centers. It functions as a mobile hub in the strategic defense system of the country, and is usually being held by a senior military officer.
When Bryan and Santana spot James, Christina Hart (Jennifer Beals), who is at the team's headquarters with Kilroy (Adam Goldberg), reminds the two in the field to be careful. "James may be attempting to make another drop. Don't move in until you can confirm he has the football," Christina tells Bryan and Santana.
Bryan comes up to James without any hassle. But when Bryan tells James to hand him the football, James tries to hit Bryan with it, hoping to get away. Though Bryan manages to take down James quickly, a young man — who appears to be James' accomplice — escapes.
"You don't know what you're doing," James tells Bryan after trying to stop his supposed accomplice from running away.
When Bryan asks what exactly is going on, James reveals that the boy and a certain group have his son. Does this group blackmail James into stealing the President's football?
While that remains to be seen, the trailer for the episode suggests that the football is stolen during an event in which the head of state is scheduled to make a public appearance. In the 15-second clip, the President is called to the stage when something suddenly explodes.
"Taken" Season 2, episode 4, titled "OPSEC," airs on Friday, Feb. 2 at 9 p.m. EST on NBC. Watch the sneak peek and the trailer for the hour below:
© Copyright IBTimes 2023. All rights reserved.