Tamir Rice New York City Protest: Protesters Rally At Washington Square Park For Cleveland Boy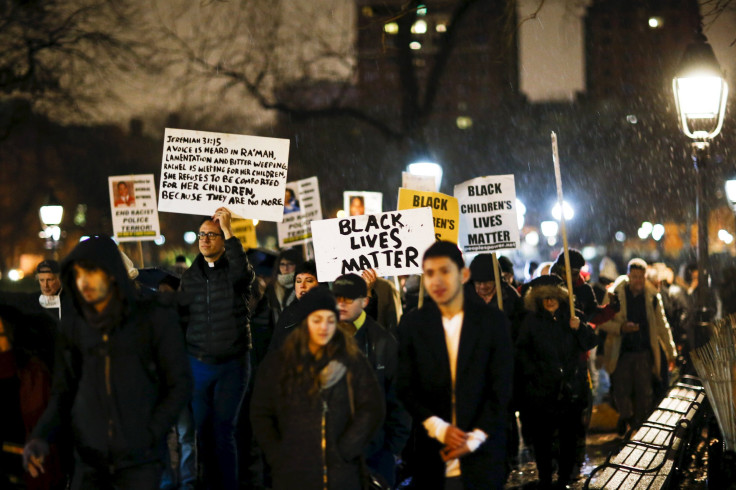 Waving signs that read "White Silence is Violence," protesters filed through the streets of lower Manhattan and across the Brooklyn Bridge in New York City to decry an Ohio grand jury's decision Monday to not indict the white police officers involved in the 2014 fatal shooting of 12-year-old Tamir Rice. With a police detail in tow, the "NYC Rises Up 4 Tamir" demonstration, while peaceful, illustrated the complex relationship between law enforcement officers and the groups increasingly reluctant to trust them following several high-profile cases of police brutality against minorities in the last year.
The boy was fatally shot by white Cleveland police Officer Timothy Loehmann in a brief November 2014 exchange that was captured in surveillance footage. The video shows Loehmann and Officer Frank Garmback driving up next to the child. Loehmann fired at the boy within seconds of exiting the police vehicle, and has since testified that he believed the toy pellet gun that Tamir was wielding was real.
Tim McGinty, the Cuyahoga County prosecutor, announced Monday that the officers would not face charges, calling Loehmann's action part of a "perfect storm of human error." The Rice family felt otherwise, accusing McGinty of "abusing and manipulating the grand jury process to orchestrate a [grand jury] vote against indictment," according to a statement.
The office of Steven Dettelbach, U.S. attorney for northern Ohio, said Monday that it will continue to monitor the investigation into Tamir's death. "The Civil Rights Division of the Department of Justice, the United States Attorney's Office and the Federal Bureau of Investigation have been monitoring the investigation that has been conducted regarding the death of Tamir Rice on Nov. 22, 2014," a statement said. "We will continue our independent review of this matter, assess all available materials and determine what actions are appropriate, given the strict burdens and requirements imposed by applicable federal civil rights laws."
Undeterred by hail storms and sleet in New York City on Monday night, protesters began in Wasington Square Park by chanting, "Indict, convict, send those killer cops to jail. The whole damn system is guilty as hell." As a police vehicle drove by, protesters shouted, "Go look for some 12-year-olds, you pig."
Protesters later began marching south down Broadway, chanting, "hey, hey, ho, ho, racist cops have to go." At one point, another protester shouted "Shame on you" repeatedly at a New York Police Department officer as he directed demonstrators to carry out the march on the sidewalks.
Many demonstrators expressed concerns about a judicial system that they said prioritizes officers over citizens. "Why is it every time the life of the officers is more important than black youth?" said protester Travis Morales, who gripped an "I Am Tamir Rice" sign. "Instead of the KKK, it's the police in blue. They don't have a hood, but they have guns and badges."
Organizers said about 100 people showed up to protest, representing less muscle than usual from the local coalition of social justice groups because of holiday travel. "The ones who are here will remember this message," organizer Kim Ortiz said.
Ortiz said the rally sought to bring attention to several injustices, including the controversial 48-hour rule for police officers in certain jurisdictions, which she said is partial to law enforcement. The rule affords a police officer 48 hours to find legal representation if questioned in connection with the use of deadly physical force or allegations of brutality.
"We need to end the 48-hour rule for officers," said Ortiz, donning buttons featuring 12-year-old Tamir. "When we commit a crime, we do not have the chance to spend 48 hours to create a story."
Within hours of the Cuyahoga County announcement in Ohio, word of the protest in New York City, which was organized by activist group NYC Rise Up 4 Tamir, had spread through social media, replacing a scheduled protest for People's Monday, a weekly demonstration in the city's Grand Central Terminal that is held to bring attention to victims of police brutality.
The presence of demonstrators paled in comparison to the thousands who convened in nearby Union Square in December 2014 to protest a Missouri grand jury decision not to indict former Ferguson police Officer Darren Wilson in the shooting death of Michael Brown. The decision in Ferguson triggered a wave of demonstrations in recent months against police brutality, stretching from San Francisco to Miami.
Some of the activists Monday said they continue to attend the frequent "Black Lives Matter" demonstrations in New York to help city officials and law enforcement grasp the raw emotions provoked by decisions such as the one in the Tamir Rice case.
"I think it's important not only to speak out online, but to support these issues in person," said Adriana Lira, a 37-year-old doctoral student at Columbia Teachers College in New York City.
Data curated by FindTheData
© Copyright IBTimes 2023. All rights reserved.
FOLLOW MORE IBT NEWS ON THE BELOW CHANNELS