Taylor Swift, Kanye West Unedited Phone Conversation Leaks, Proves Singer Didn't Lie
KEY POINTS
Taylor Swift and Kanye West's phone conversation leaked
Taylor Swift and Kanye West's feud revisited
Twitter supports Taylor Swift and mocked Kanye West and Kim Kardashian after the leaked recording
Taylor Swift and Kanye West's unedited phone conversation that sparked their feud leaked and it showed that "The Man" singer did not lie.
A clip of the "Stronger" rapper making a conversation with the "Blank Space" songstress is making the rounds on Twitter. In the video, West is asking Swift to tweet his upcoming song when he releases it. He also lets her know that he mentions her in the lyric.
Kim Kardashian's husband warns Swift that there's a "controversial line in the beginning" about the "Love Story" singer. Swift laughs and asks West what's the line.
West declines to answer her immediately and goes on explaining that he thinks about the lyric for eight months. Swift presses on West to tell her the lyric. She asks, "is it gonna be mean?" and he says "no."
West explains that when his wife Kim Kardashian first heard it, the reality star said "that's too crazy." However, when Ninja from Die Antwoord heard it, he was impressed saying, "Oh my God this is the greatest [explicit], this is why I love Kanye." Eventually, Kardashian liked it and it became her favorite line, too.
West shares the lyric rapping "Taylor Swift might owe me sex." Swift laughs and says "That's not mean."
However, when West dropped the song, he changed the lyrics to "I feel like me and Taylor might still have sex / Why? / I made that bitch famous."
Swift wasn't happy about it. In her acceptance speech for Album of the Year at the 2016 Grammy Awards, she took a swipe at West by saying that are people who will "try to undercut your success or take credit for your accomplishments or your fame."
Kardashian said in a previous interview that her husband called Swift about the lyric insisting that she was aware of it. The "Keeping Up With the Kardashian" star released the recording via Snapchat and people started calling Swift a snake for denying and lying about it.
The "Look What You Made Me Do" singer fired back by releasing a statement that she never consented to being called a "b----" in the song. The leaked recording shows that West changed the lyric. It was different from what he told Swift over the phone.
Online users shift their support from West and Kardashian to Swift using the hashtags "TaylorToldTheTruth" and "TaylorWasRight." Meanwhile, they also attached the couple with hashtags "KimKardashianIsOverParty" and "KanyeWestIsOverParty."
West and Swift had a history prior to the controversial lyric feud. During the 2009 MTV Music Video Awards when Swift was named the winner in the Best Female Video category for her music "You Belong With Me," West interrupted her acceptance speech saying that she robbed it from Beyoncé. In an interview with Variety, Swift admitted the incident made her felt she was not "respected" in the industry, so she worked hard to earn it.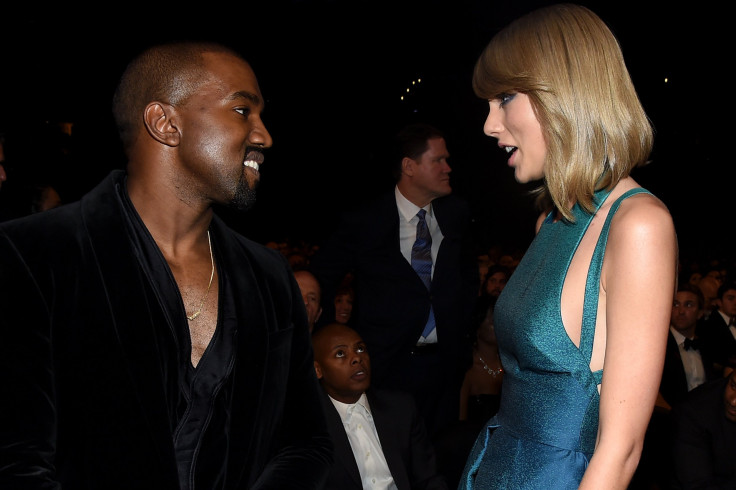 © Copyright IBTimes 2023. All rights reserved.
FOLLOW MORE IBT NEWS ON THE BELOW CHANNELS