Is Taylor Swift In 'X-Men: Apocalypse'? Find Out If She Is Playing Dazzler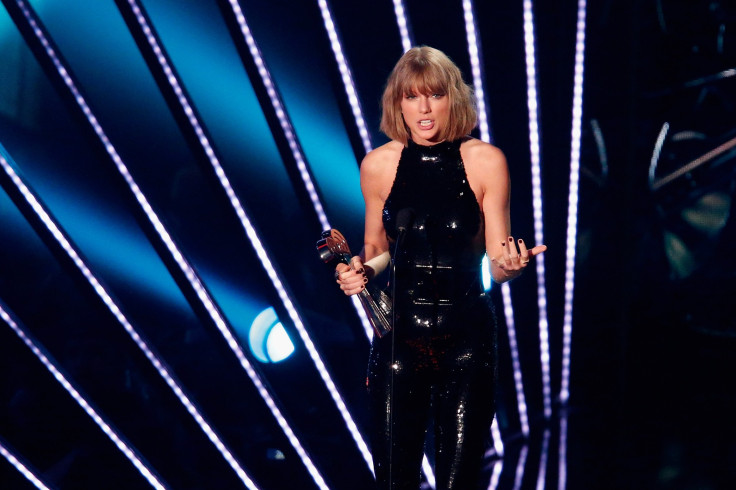 Taylor Swift is many things: entrepreneur, singer, actress — but she's not a mutant. Swift was rumored to be playing Dazzler in "X-Men: Apocalypse," but it seems the "New Romantics" singer isn't entering the superhero genre just yet.
Swift's representatives told Gossip Cop that the reports are "not true." Swift will not be making an appearance in the movie, despite a few tweets that seemed to hint otherwise.
The rumor was started last summer after a photo of Swift with some of the film's cast and crew hit Twitter. However, Sophie Turner, who plays the young version of Jean Grey in the film, was quick to nix the rumor in July.
"No," the "Game of Thrones" actress told E! Online shortly after the group photo was posted. "We just went to her concert and then I guess she wanted to meet us and we really wanted to meet her so we just hung out with her for a bit. Played a couple of drinking games. It was awesome."
Much like Wolverine, the rumor just can't die. Several news outlets again speculated that the pop star would appear after Turner tweeted a movie still that shows Cyclops (Tye Sheridan) picking up Dazzler's album. She wrote that they "found [their] favorite singer's album (pre 1989, of course)."
The Swift reference certainly made it seem like the superstar could be making a cameo, but it seems Turner was simply referencing the fact that the film takes place in the '80s, well before the album "1989" was released.
Even without the singer, "X-Men: Apocalypse" is not short on famous names. Jennifer Lawrence, James McAvoy, Hugh Jackman, Oscar Issac, Michael Fassbender and Olivia Munn are just a few of the cast members.
"X-Men: Apocalypse" will hit theaters May 27.
© Copyright IBTimes 2023. All rights reserved.